Women's golf team heads to state championships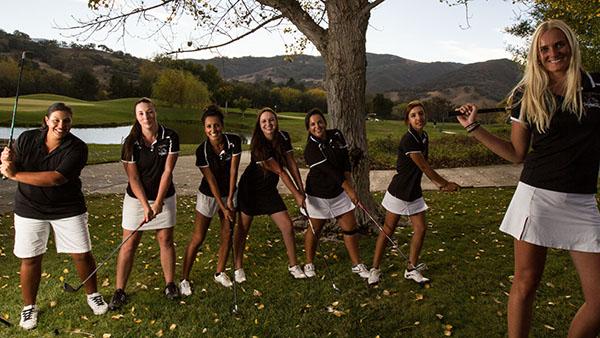 City College women's golf heads to the state championships as the team dominated the Southern California Regionals Nov. 11, in front of a home crowd.
The Vaqueros got off to a hot start Sunday at the Alisal River Course in Solvang and never looked back; beating second place Fullerton College by 15 strokes.  The win qualifies City College for the state championships which will be held Nov. 17 and 18 at Tracy Golf Course in Tracy, Calif.
Freshman Fanny Johansson led the Vaqueros with a combined two-day score of 151; good enough for third best amongst all participants.  The Swedish born Johansson was named WSC North Player of the Year as she led the Vaqueros to an undefeated conference record of 32-0.
"She's been our leader all year and when she plays well we usually finish first," said head coach Chuck Melendez.  "She's a great golfer but better person."
Saralisa Ortega shot a Vaqueros best, 75, in the final round and also qualified for the individual state championships along with fellow freshmen Vanesa Villa and Johansson.
"My putting saved me today," said an exuberant Ortega.  "I'm ready to focus and get ready to go on to the state championships now."
City College heads to the state championships with an overall record of 61-3.  Two of the Vaqueros' three losses came by the hands of Palomar College who finished third in the Southern California Regionals, one spot out of the state tournament.  Palomar was without one of their top golfers as a concussion had her sidelined.
"It felt good to beat Palomar over any of the other teams because we finished behind them at the beginning of the year," said Johansson.
The crowd of golfers and supporters gathered around the pro shop at Alisal River as Athletic Director Ryan Byrne proudly handed the first place trophy to the Vaqueros.
"It's great to be able to host and then be able come out on top," said Byrne.  "It's extra special for me to be able to issue that first place trophy to our team who has worked so hard."
Melendez alluded to a "problem" he now faces going to state: which six girls does he choose to play for the team at the championships?
"It's been difficult because we have so many good players and we can only travel with six," said Melendez.  "It's been hard on me to have to leave someone behind and it's a struggle because I know they all want to play and all are deserving to play."
College of the Canyons, Saddleback College and College of the Desert were the other teams in the tournament.  Some entrants only participated in the individual and not the team championships with hopes to qualify for the state title.
Iris Chung of Mt. San Jacinto College finished first in the individuals, posting a two-day score of 147.  Sadye Busby of Palomar had the lowest score of the final round, shooting a one-under par 71.
The two day scores of all Vaqueros were: Haley True (89-90), Jackie Ramirez (85-81), Maggie Daly (78-87), Saralisa Ortega (82-75), Vanesa Villa (76-81), Fanny Johansson (75-76) and individual Megan Herrera (86-81).
The six City College representatives, whomever that may be, will head to Tracy next weekend with the intent of bringing the Vaqueros its first women's golf state championship since 2008.  Melendez said he hopes the team can travel a few days prior to the tournament to get acclimated to the course.