Stock car racer brings sixth sense to SBCC, looks ahead to NASCAR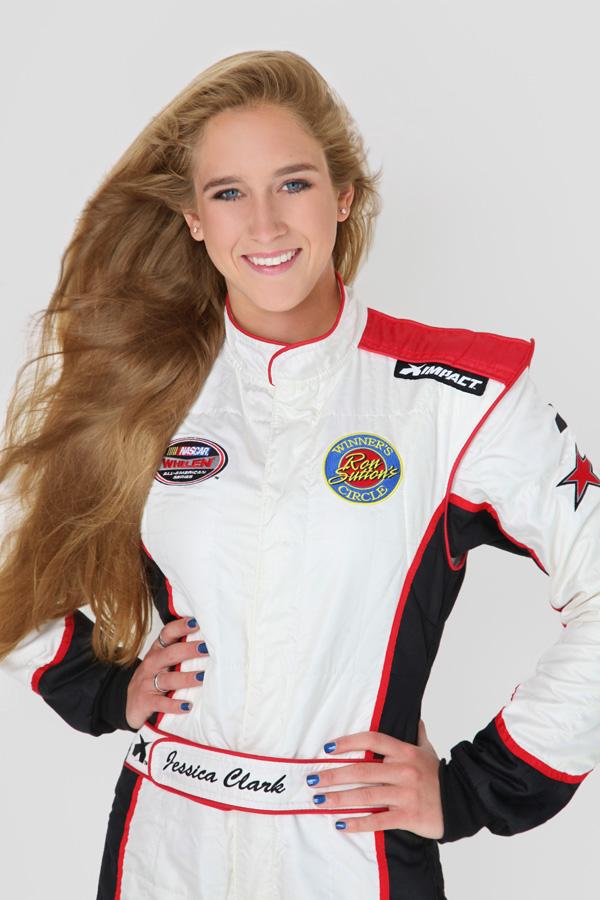 For Jessica Clark, racing through the school day is a regular occurrence. On the weekends, it's a whole different kind of race.
Clark, 19, is a professional stock car driver. She's the first female to win the United States Auto Club champion twice in a row and one of two women in her class.
"I love to drive things," Clark said. "I'll drive anything."
Her ultimate goal is to make it to NASCAR. But, with female drivers like Danica Patrick, Clark feels like her gender is misrepresented.
"It's difficult, especially on the west coast, for people to see the value in sponsoring a racecar driver," she said. "When you think of Danica Patrick you think Go Daddy,
"I don't like to play up the fact that I'm a girl."
In such a male-dominated sport, being a girl can be difficult. Clark primarily races against men, ages 18 to 50. Vanessa Robinson is the only other girl she races against.
"We race on quarter-mile tracks and we're constantly turning," she said. "By the end of the race you can't hold your head up anymore."
That's where yoga has come in handy. Clark takes a fitness yoga class with Rosabeth Dorfhuber on Tuesdays and Thursdays.
"Yoga helps loosen me up," said Clark. "I've gotten a lot more flexible."
Clark does CrossFit in Ventura every other day to build strength for racing and says that yoga helps calm her down after a hard workout.
"I believe that yoga will help any athlete at any level," Dorfhuber said. "…both mentally and physically."
Racing at speeds up to 120 mph, keeping that focus is key.
"You have to maintain that focus, that calmness," Dorfhuber said. "You can't wander when you're going that fast."
Clark will be racing in August at a track in Irwindale, Calif. that will test her focus at 140 mph. The likelihood of crashing is low, she said.
"Stock cars are not that dangerous," said Clark, assuredly. "I can see things as they happen. I can see the directions the cars go,
"It's kind of like a sixth sense."
Right now, she is four classes below NASCAR but says she'll do whatever it takes to get there.
"I just want to be there. I'll drive a lawnmower against them," she joked.
Clark started racing when she was 11. Her dad asked if she wanted to race go-carts and since she loved driving the golf carts at the mini-golf parks, she decided to give it a try. Her first race, she remembers that she "didn't want to race." After her dad convinced her to give it one shot, she was "hooked from then on."
With four to five guys in her crew and her dad as her crew chief, Clark has a stable team behind her.
"I literally wouldn't be able to do anything if I didn't have [dad]," she said.
With her grandma as her biggest fan, Clark hopes she'll someday know as much as granny.
"She's a NASCAR nut," Clark said. "She eats [it] for breakfast."
Clark, a graphic design major, is taking 17 units this semester.
"Graphic design is my fallback plan if the whole NASCAR thing doesn't work out," she said.
With yoga helping her focus and her racing career taking off, Darfhuber "doesn't doubt that she'll make it there."
"She's driven and focused," Darfhuber said. "The ones that want to improve do whatever little thing that will help get them the edge."
Clark's next race is May 11, at Bull Ring Las Vegas Motor Speedway.
"Finally when we're racing, that's when my favorite part comes," she said. "I get to do what I want to do,
"You've only got 100 laps; you better make the most of it."