There are a plethora of small local businesses lining the streets of Santa Barbara. Many of these little shops are hidden gems that don't get enough attention from the community and Black-owned businesses are normally the least busy compared to other stores. 
It's important for communities to support local Black-owned businesses to help create equal opportunities and economic balance in order to diminish the racial wealth gap. Supporting these businesses is just one of the many ways communities can work toward creating a balanced economy. 
In order to shine a brighter light on some of these businesses, we visited two Black-owned restaurants and tasted their delightful products. 
Soul Bites
Story continues below advertisement
Located on the main street in Santa Barbara next to a local nightclub, the restaurant Soul Bites comes alive at night. On their website, the cuisine is described as African American comfort food, incorporating recipes learned from family. 
We ordered the large hot cracklin' mac and the hibiscus lemonade which came served in a plastic pouch, reminiscent of everyone's childhood favorite drink, Capri Sun.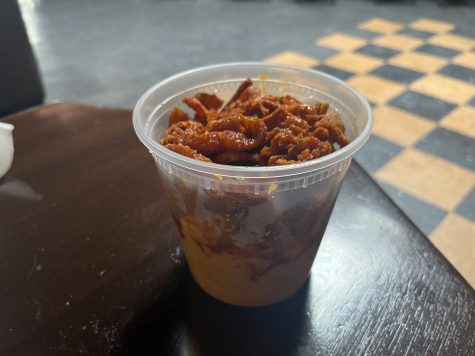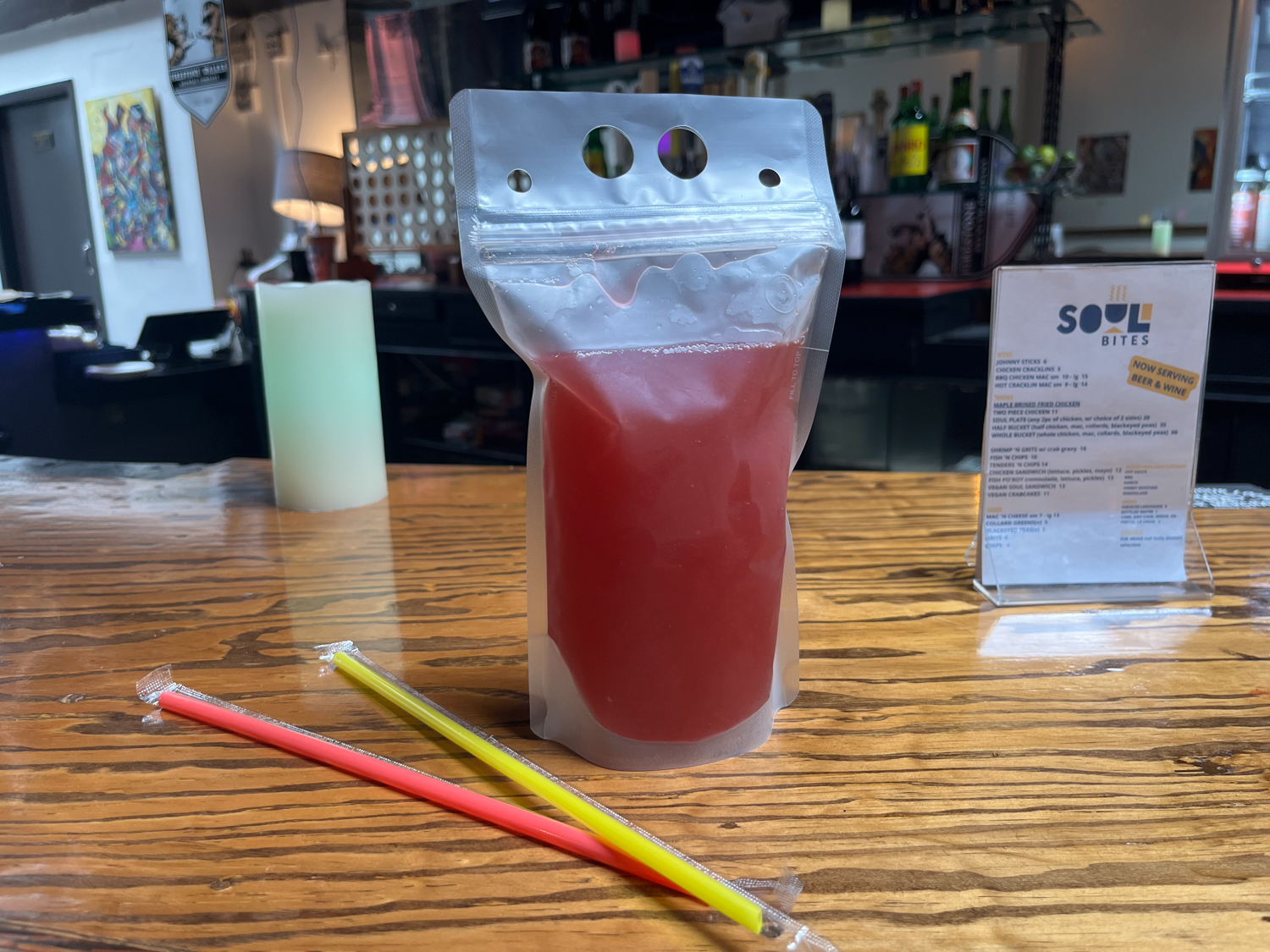 Sunny's review of Soul Bites 
We ordered our food to go and within 10 minutes it was handed to us by a very smiley worker. The mac contained crispy chicken skin tossed in hot sauce that was piled on top of a rich scoop of mac and cheese. Each piece of crispy greasy skin melted in my mouth, creating a perfect medley with the creamy mac. After a few bites, it was hard to put my fork down and throughout the following days I found myself craving the delicious dish. Overall, I would rate the mac a 9 out of 10. As a cheese lover, I do suggest that the mac and cheese could have a little more cheese so I could obtain that lovely, cheesy pull that I'm always looking for. The hibiscus lemonade was a cooling contrast to the flavor packed mac. It had a good degree of tartness and tasted freshly made. I would rate the lemonade an 8 out of 10 only because I wished there was more hibiscus flavor.
Emily's review of Soul Bites
When ordering, the waiter who attended to us was very nice and cheerful to serve us. It was very quick to receive our food, it came in under 10 minutes, which was very nice. I thought that presentation could have been better. The dish came in a plastic container and the beverage was in a see through plastic pouch as well. The dish that we ordered was called the hot cracklin' mac: mac and cheese with spicy crispy chicken skin on top. The dish itself was very interesting because I had never eaten chicken skin before, so this was a new and exciting experience for me. You could taste the spice immediately when you took a bite out of the crispy chicken. It had a very nice crispy sensation to it and not too overpowering with oils. The mac and cheese could have been better, however, because it was not creamy or liquidy. The cheese was a bit lumpy, but the noodles were very soft, and not one of them was hard to chew. Overall, I would give this dish an 8 out of 10. I want to go back and try it again, especially when I want some comfort food. 
Petit Valentien
This quaint hole-in-the-wall is tucked away in La Arcada Plaza. Petit Valentien specializes in Nigerian and French food and has various menus which can be viewed on their website. They serve Nigerian food on the weekends, and French food on weekdays. We came in on a Tuesday and ordered a steak with mushroom crostini and a side salad. We also ordered their homemade tea and a bread basket.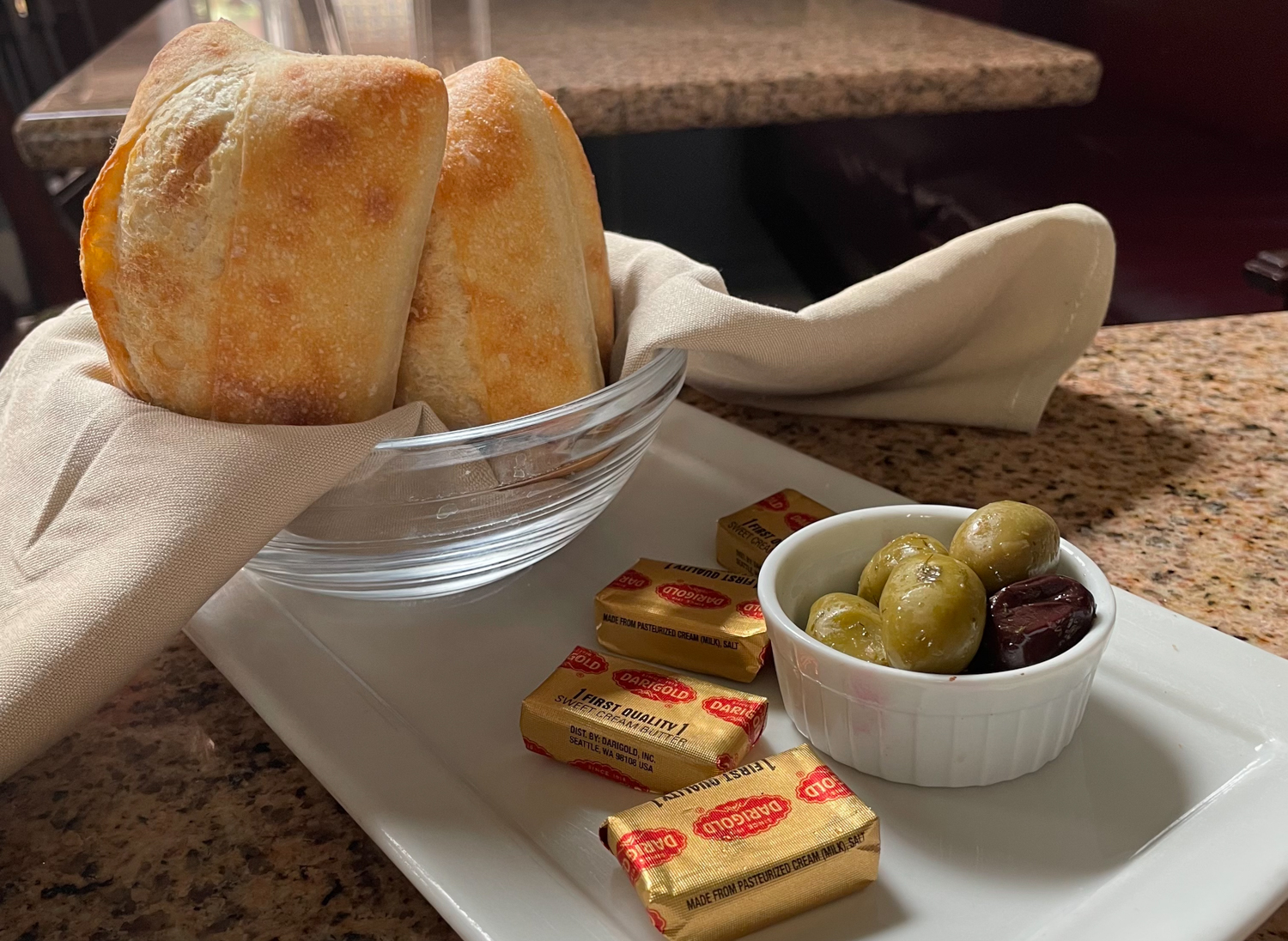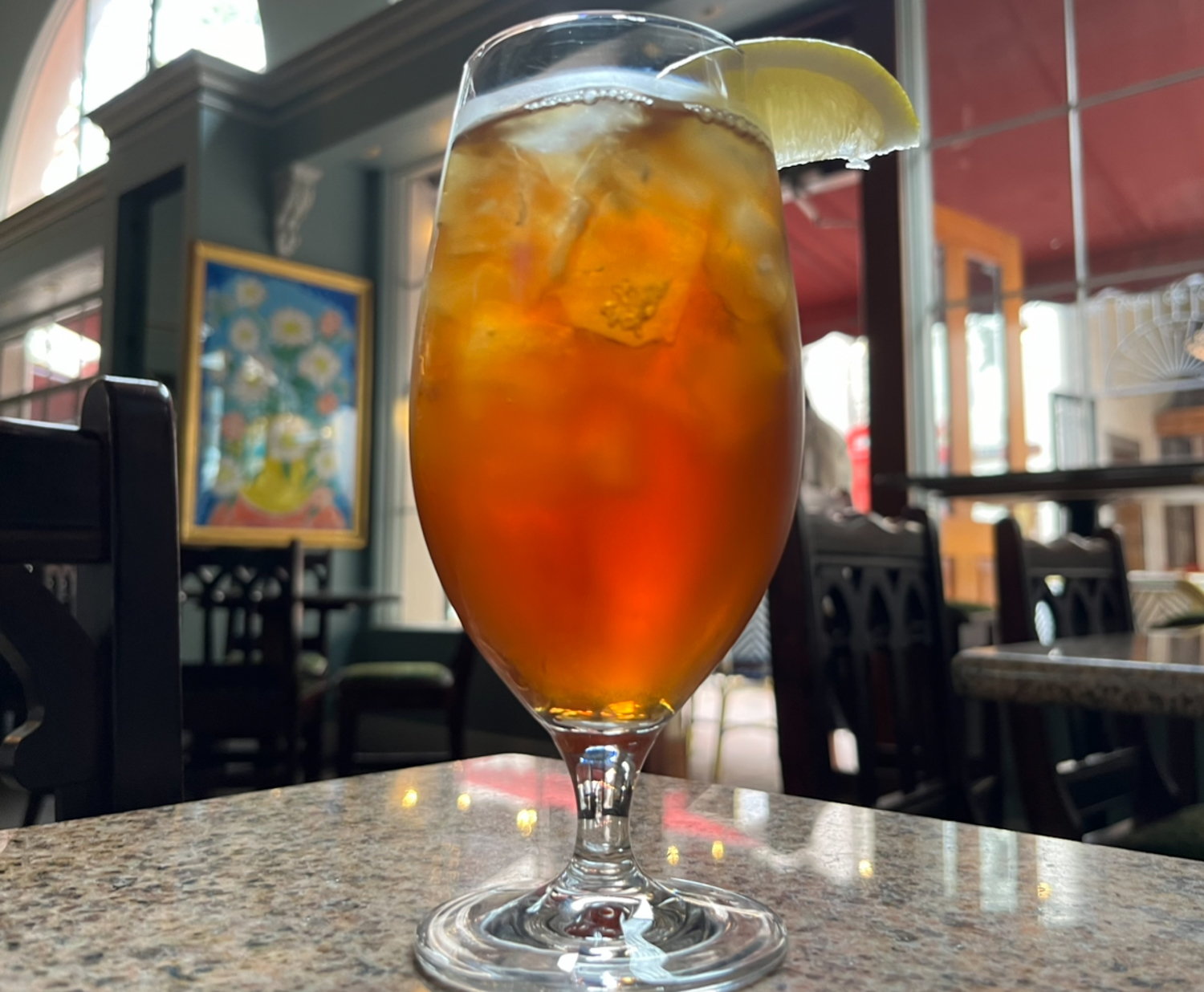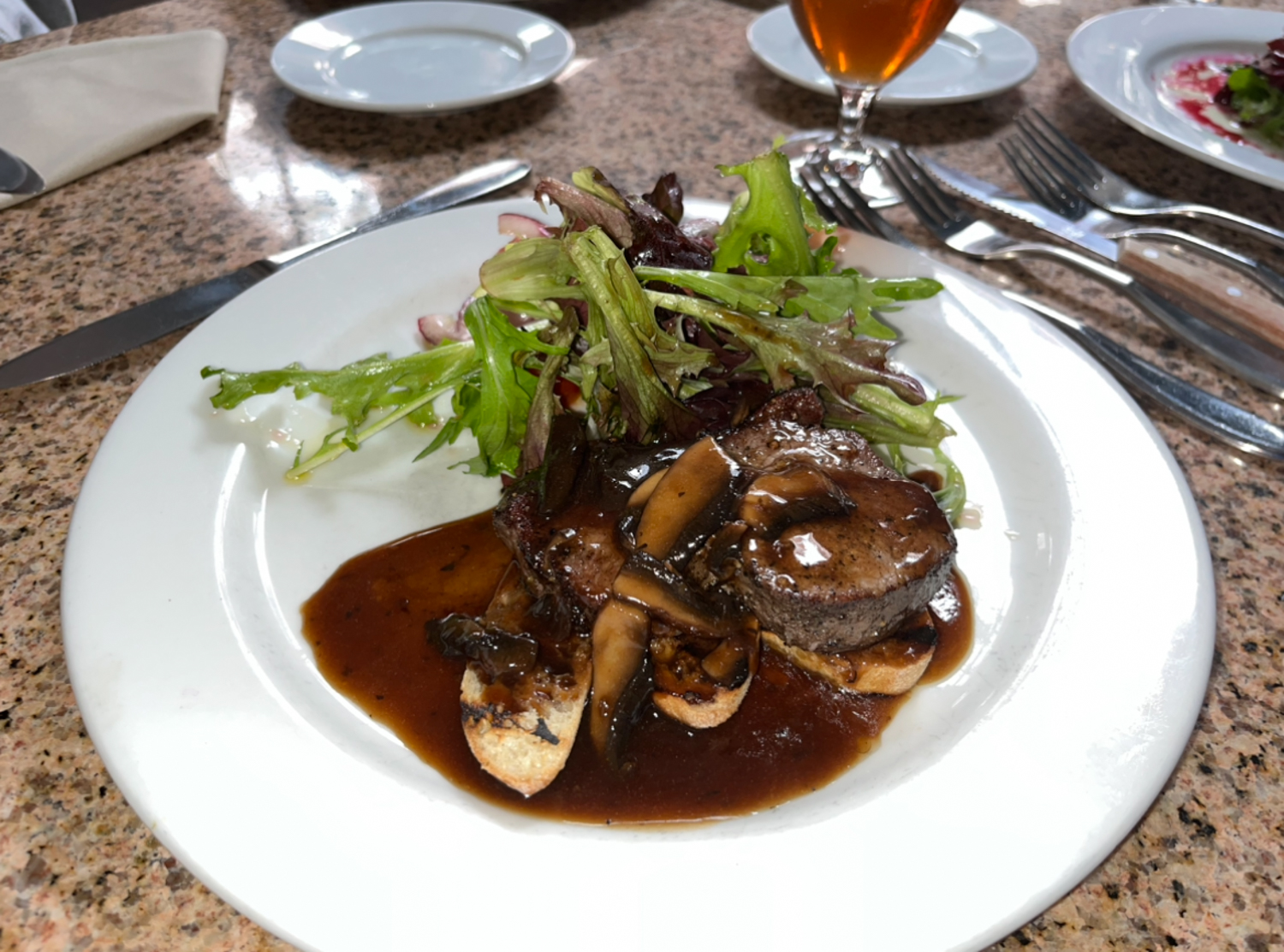 Sunny's review of Petit Valentien
We placed an order with a quiet but friendly waiter and sat inside. The lunch menu was small, consisting of around 12 dishes. Our iced tea was served promptly and had refreshing floral notes. I personally prefer my iced tea a little sweeter, but it served as a nice palate cleanser and left a delectable taste on my tongue. Our food came quickly and the presentation was beautiful and reminiscent of French cuisine. A bread basket with warm rolls, butter and an assortment of olives served as a comforting appetizer, although the butter was cold which made spreading difficult. The steak was cooked and seasoned to perfection, falling apart in my mouth, while the mushroom gravy brought smokey and earthy notes to my palate. There were pieces of toast lying beneath the steak and I wished they had been a tad crispier because they became soggy from the sauce. The juice of the steak and the rich mushroom sauce combined elegantly and the tomatoes in the salad were vibrantly red and ripe, elevating the simple assortment of vegetables. I would rate this dining experience an 8 out of 10 overall. 
Emily's review of Petit Valentien:
We tried a dish with grilled flat iron steak pieces on mushroom crostini with salad. We also had a side of bread with butter to go with our dish. The side of six pieces of bread was very warm and smelled great. There was also a small side of olives to go along with the bread. The butter, however, was not made in-house, but was in small foiled bricks for us to spread in the bread. I would rate this side a 7 out of 10. As our main dish came, the presentation was pretty. On the side of the dish was a salad with fresh tomatoes, red onions, and olive oil on top. Next to it were the small pieces of steak on top of bread slices, drizzled with a mushroom sauce. The sauce was very smooth but not too exaggerated with spices, as I had hoped. The steak was cooked medium rare, and melted right as I took the first bite. It was not too greasy or fatty to eat, which was something I really appreciated. The bread on the bottom of the steak became soggy due to the sauce, which I enjoyed less, but the dish was good for a lunch with friends.
Round-up 
In our search to find Black-owned restaurants, we had trouble finding many that weren't online catering services or restaurants that had been closed permanently according to Yelp. During our experiences at both restaurants we found lovely environments, enjoyable food and warm interactions. As we enjoyed what these restaurants had to offer us, we were also able to contribute to Black-owned businesses. Supporting small local businesses helps our community flourish. When people buy from Black-owned restaurants they are taking a small step in creating equal opportunities and closing the wealth gap. The more our community supports these businesses, the more opportunities will arise for the whole community.