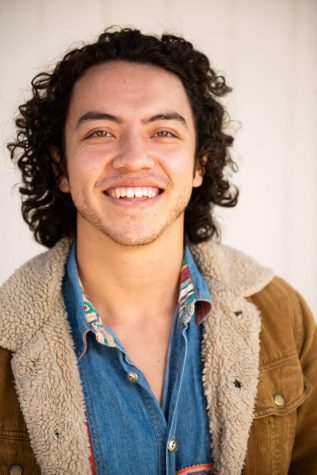 This semester, I will be taking the reins as Opinion Editor on The Channels. And it's a good thing, too, because I have a lot of opinions.
The Beatles are better than the Rolling Stones (About a 51-49 split, to be fair) though both are second to none. Cats are better than dogs, and a rainy day is far more pleasant than a sunny one. 
Now, I'm excited to bring my vision to the opinion section.
I want to talk about current events. The current impeachment hearings, The 2020 presidential election campaign trail, the coronavirus. 
Story continues below advertisement
I also want to talk about things that have happened in the past, musically, culturally and personally.
I'm a music buff. I play lead guitar in a local band with my buddies and spend a good deal of my free time watching interviews with various musicians.  I want to incorporate my love of music into the section. I want to write a column on why I think Yoko wasn't the reason the Beatles split. I want to write a listener's guide to appreciating George Harrison's solo career. I want to write about the tumultuous end of the 60s and how it parallels certain modern-day events. I want to write a column about the various double-standards in the music industry. 
I want to talk about college life.
Using the expertise of our staff, the possibilities are endless.
I want the opinion section to reflect all the different personalities found in our newsroom. 
This semester I also want to incorporate more editorials. Written by the Editor-in-Chief Jun Starkey or myself, editorials are a representation of the current editorial board's feelings on a topic we've reported on. In the past, The Channels has written editorials on topics ranging from teachers accused of sleeping with students, the Santa Barbara housing crisis and even an endorsement of a City Council candidate. 
At the end of the day, reporting is the meat and potatoes of The Channels, and it always will be. Without proper coverage of on-campus topics and events, our newspaper wouldn't hold much water. 
But we're just telling you the facts.
Strong opinions matter. I want our readers to learn about our wonderful writers through the stories they tell. Everyone has a unique voice, and I want those voices to be heard. 
That goes for our readers, too. Within the past few years, our engagement with the community has declined a bit. Maybe that could be a reflection of the general distrust of the media.
Coincidentally, the "fake news" rhetoric has been brought into the limelight within the past few years, too. 
That's where you step in. I want to encourage each and every one of you to take a look at our "Letters to the Editor" page. 
There, you can reach The Channels Editorial Board directly. And hassle-free, at that. It's a way for us to receive direct input from the community. Think we erroneously reported on a sensitive topic? Tell us. Think we're doing a terrible job? While it might come as a bit of a blow to the ego for us all, we'd like to hear the reasons why. 
Writing letters to The Channels isn't the only way to get your voice heard. 
If you have an idea for a column that you feel strongly about, check out our guest columns page. The last time we published an article in that section was over three years ago. I'd say it's time for some fresh voices, wouldn't you? 
What's really special about guest columns is you. 
It's a chance for any reader to voice their opinion on a widely read platform without having to be enrolled in the class. 
This section is all about discussion, really. A strong opinion is bound to have strong opposition, and a newspaper is a great way to have a meaningful meeting of the minds over controversial topics. 
A strong newspaper reflects its community, and we wouldn't be able to do that without your viewpoint. So, let's hear it.