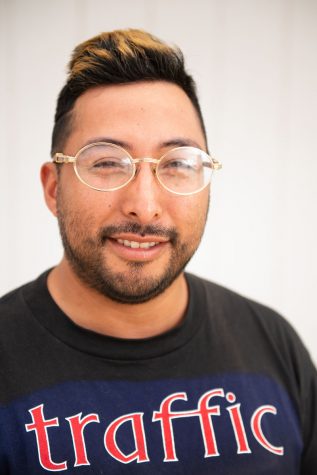 I spent the summer on house arrest with an electronic GPS ankle monitor strapped around my leg, wondering how I got myself in this situation, and how I was going to get myself out.
With no job and nowhere to go, I made the decision to return to school and pursue my lifelong dream of earning a degree and writing for a living.
I enrolled in the personal development Transitions Program during Summer I and Summer II and began my journey to being a scholar.
I started to grow as a student and as a writer while attending Noel Gomez's courses and using the resources and encouragement provided by the staff of the Extended Opportunity Programs and Services.
Story continues below advertisement
I gained the confidence I had lost over the years, and a support system that I had not ever taken the opportunity to appreciate.
For those who are attending City College for the first time, the EOPS program here on campus provides resources like book grants, tutoring, supplies, and counseling to those who need it. 
The help I received through Gomez and others put me in a position to finally be successful in school.
I always had a vision of finishing college, but after enrolling and subsequently dropping out of Santa Barbara City College and then again at Academy of Art University in San Francisco, it seemed like that vision was slowly fading. 
I felt that my dreams of a career in writing were drifting further from my reach.
I had been sailing through my early 20's, hopping between part-time jobs and part-time friends in San Francisco before moving back to my hometown of Santa Barbara to do the same thing. 
I was living as if life were a summer vacation.
Yet, I wasn't happy. Seeing people I grew up with starting careers and families while I was just floating by was growing heavy on my conscience. I compared myself to my peers and grew insecure with my lack of progress.
My insecurities led to me living a fast life, trying to make money in any way possible so I would feel like I was keeping up with my peers. 
Eventually, this lifestyle caught up with me. After an accident that sent my Honda CRV rolling up State Street at 4 a.m., I found myself in court facing DUI charges.
I was extremely lucky to survive with minor injuries, and only sentenced to a summer of house arrest. This was the wake-up call I needed and I took the opportunity to live the life I had always envisioned for myself.
Putting in the hours to get each assignment completed along with working 30 hours a week was taxing, but it was something I needed to do in order to get the success I wanted.
I spent every day in the EOPS labs with the helpful tutors, and I was amazed at how much easier it was to get through the obstacles of signing up for classes or getting books whenever I asked for help.
The things that always held me back like paperwork and appointments finally weren't an issue anymore. 
Now I find myself free to achieve what I want, with nothing strapped to my leg telling me my boundaries.