When he's not in the classroom, Michael Gallegos wants to be diving in warm seas, taking photos of the world under the water.
Gallegos, an associate professor in the multimedia arts and technology department, has a 30-year background in marine photography. Although he teaches courses in Photoshop and Lightroom, he is low-key about the huge body of work he has amassed over the years.
Surrounded by his artwork in his campus office, Gallegos shares anecdotes of his more memorable trips.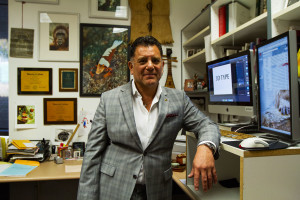 On one dive, he remembers playing a prank on his dive partner with a remora, commonly called a suckerfish. "Those little fish that attach themselves to sharks," Gallegos said.
Story continues below advertisement
"So I stuck it to [my partner] to see if it would latch on."
Gallegos grew up Orange County and went to high schools all over the area. When in high school, he networked with representatives of the Professional Association of Diving Instructors. After that, he was hooked.
Gallegos went on to serve multiple tours in the Persian Gulf while in the U.S. Navy, and eventually enrolled at UCSB, where he earned a bachelor's degree and then a master's in cultural anthropology.
His first job was at Cal State Monterey Bay, setting up instructional technology and helping teach courses.
His next trip, he hopes, will be to Asia, either Indonesia or Thailand.
He recalled one dive, about five years ago in the Philippines, when he had a close encounter with a triggerfish.
"Triggerfish are very territorial," he said. "But what's weird is their territory goes up in a vertical line over their eggs. So anything swimming above them is a threat. Our diving instructor told us they like to go for the ears."
He was swimming with his group when he fell a bit behind, thinking his dive partner was still to his rear. He was looking for things to photograph until he got hit in the head.
"All of a sudden I feel a THWACK on the back of my head," he said. "I was a bit confused.
"I looked ahead at my dive instructor, and he was giving me the sign for 'Are you okay?' I looked back because I thought that my dive partner had just bopped me on the head."
Instead, a massive triggerfish had smacked him. The next day, he was fine.