SBCC wins elimination game but is swept in next round.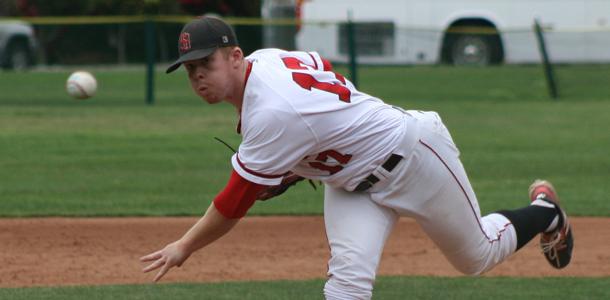 Dan Nelson, Sports Editor
September 11, 2012
The Vaqueros' baseball season came to an end on Sunday after being swept by No. 2 seed Rio Hondo.
After playing in the longest playoff game in City College's history, the Vaqs were beat two games to none in the first round.
"We battled all year to the last strike and last out," said head coach Jeff Walker. "The sophomores set a high standard in their two years here. We have a lot of good guys coming back and good guys coming in.
"I think we'll be able to defend our WSC title and go farther in the playoffs next year."
City College started its run by playing 16 innings of a single-elimination playoff game against College of the Canyons. Mark Jebbia went 4-6 with two RBIs and hit a walk-off single to lift the Vaqs to a 6-5 win.
"It was a high fastball and I kind of rolled over it," Jebbia said. "Luckily it got through. As I was rounding first, I didn't think it was hard enough for the third base coach to send [the runner home], but luckily he did and the run got through."
Rich McCaffrey pitched 8.1 innings of relief in the four-hour and 45-minute marathon.
"I was thinking to myself, 'I'm not going to be the guy that gets the loss to end the season,'" McCaffrey said. "I just kept going and going and I just kept throwing up zeros."
The left-hander threw 11 strikeouts and allowed just four hits without giving up a run or walking a batter.
The win advanced City College to a best-of-three series against Rio Hondo on Saturday and Sunday.
The Vaqs were edged 4-3 in the first game.
Brendon Shoemake gave up four runs on 10 hits in 5.1 innings. Pat Cavalier went 2-3 in the game.
City College lost the second game 12-1 on Sunday.
The game extended the Roadrunners' 30-game win streak.
City College started out with a 1-0 lead through two innings from Joey Epperson's sacrifice fly in the bottom of the first. Rio Hondo put up two runs in the third inning and then extended its lead 5-1 in the fourth. Rich McCaffrey went 3.1 innings and gave up five runs off seven hits. The Vaqs were outhit 16-2 in the game.
In his first season as head coach, Walker was named Coach of the Year and 11 Vaqueros were named to the All-WSC team.
Freshman shortstop Steven Reveles made the first team by being No. 6 in batting average with .357 and drove in 14 RBIs. Joey Epperson also led the conference in steals with 10.
Other first-team picks were outfielders Zach Zehner (.329, three home runs, 18 RBIs and 548 slugging percentage), Eli Michaels (.316, seven stolen bases), relief pitcher Lucas Benenati (3-0, three saves and a 2.43 earned run average), and starting pitcher Danny Nieves (2-2 with a 3.89 earned run average).
Pitcher Brendon Shoemake, and infielder Joey Gonzalez were both named to the second team. Outfielder Brandon Laubhan, pitcher Rich McCaffrey and catcher Jared Dinges were honorable mentions.
City College (19-17, 12-8) finished its season in a three-way tie for the Western State Conference North crown.
Editor's Note: This article was originally published May 9, 2012.