Student Deandra Ulloa's breakthrough moment as an artist came when she was 12 years old. She said that she was taking art classes when it suddenly hit her that art was something she was truly passionate about and that these classes made her want to "stick with it."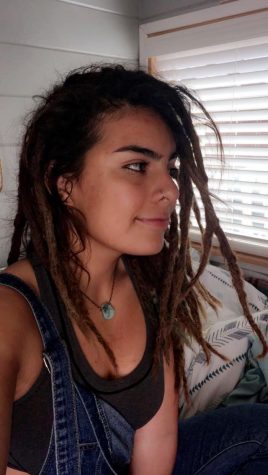 "I grew up with the influence of art and music in my family," Ulloa said. "My dad is a musician, and I have several friends who are artists."
Over the years, she has been inspired by many artists, including her favorite Dorothea Tanning.
"[Dorothea] is an inspiring woman artist and I love her style of painting," Ulloa said.
Story continues below advertisement
Many of Tanning's works are surrealist paintings, including a series of eight paintings titled "Sex, Death and Madness."
A Santa Barbara native, Ulloa chose City College because of the SBCC Promise.
"I live here and I recently tested out of high school," she said. "I heard that the tuition was free for the first two years for residents so why not?"
Ulloa has since taken a variety of art classes, ranging from drawing to painting to linoleum block painting.
The classes have ranged in their levels of challenges, such as printmaking, which she took with art professor Stephanie Dotson and is Ulloa's favorite.
She said the drawing projects are the most difficult that she's worked on.
"It's sometimes a little bit more difficult than to just use black and white with graphite rather than other classes where they allow you to use color," she said.
Ulloa said taking classes at City College has made her a better artist because being here gives her a different perspective on making art.
"With different teachers, they teach you different things even if it's the same class," she said. "You learn different techniques that you never thought you'd need and they're actually really useful."
She also said that it helps working with peers.
"She's a good student," Dotson said. "She's quiet but all of her projects are really sophisticated when she finishes them. Right now she's working on painting and I'm like 'oh my God, she's a really good painter too.'"
Dotson said she's not sure what kind of artist Ulloa is, since she's only had her in a few classes.
"I think that she's skilled in a variety of media," Dotson said. "Right now she's doing color painting and she really gravitates towards that. She says she really likes it and she does it very well, but I've seen her do really great relief prints and photographs as well."
Ulloa's favorite project is the one she's working on now.
"In my own personal time not at CC, I've been doing this series of whale paintings, just painting whales underwater," she said.
Ulloa said that her dream job would be to paint giant murals on the sides of buildings or walls because of what it would demand of her as an artist, testing her skills and making her think outside of the box.
She wants to continue practicing her craft and to one day be able to make a career out of it.
"I know that that's really hard for an artist nowadays but that's the dream," she said.
For now, she's focused on future projects that expand her artwork and herself as an artist.
"I want to paint enough paintings and draw enough drawings to get a good portfolio together and possibly get into an art school somewhere.
"I love art and I know it's what I want to do for the rest of my life."