'Dead Man's Cell Phone' brings comedy to a deranged world
The Channels Arts Pages | EDITOR REVIEW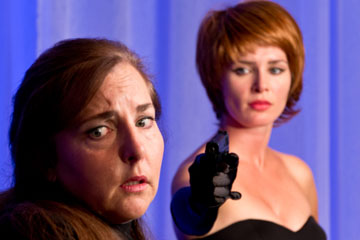 "Dead Man's Cell Phone" is a play based around a phone but touches the deep subjects of love and death. It is filled with comic relief but it also has its moments which made me question our constant need to be online and to use our mobile devices.
The play is directed by co-chair of the theater department, Katie Laris. Laris did a great job putting the play together. The play had a good flow and was very visually pleasing; from the way scenes were presented to wardrobe choices.
The main character, Jean, played by Jenna Scanlon, is a modest, kind-hearted and naive woman. She dresses very conservatively and has a low self-esteem as she continuously apologizes for herself, similar to a nervous cat.
When she finds a dead man, Gordon, played by Brian Harwell, in a cafe where she is having lunch she decides to keep his cell phone. It is hard to tell whether she does it because she cares or because she unconsciously seeks meaning in her otherwise seemingly dull life, probably a mixture of both.
Through the phone a new world opens up. Jean ends up meeting Gordon's narcissistic mother, his bitter wife and his neglected brother and she learns some juicy details about Gordon's imperfect past.

Gordon's brother, Dwight, played by Justin Stark, falls in love with Jean from the moment they meet and romance is quickly sparked between them.
Problems arise when Dwight discovers that Jean is completely obsessed with the mobile device and cannot keep her hands off of it. Every time it rings she has to pick up and it is soon clear that she has not only fallen in love with the phone, but with Gordon, even though she has never met him.
Before Jean becomes too wrapped up in the cell phone, she shares some deep reflection on the issue behind it, "I didn't always want to be there, you know. Like if you're phone is on you are suppose to be there, but it's like when everyone has their cell phone on, no one is there. It's like we're all disappearing the more we are there."
Jean reflects on how cell phones always used to annoy her and how people's obsession with the device turned them into egotistic and arrogant people. After the situation with Gordon she starts changing her mind, thinking that the cell phone connects the two in some way.
It is no surprise that death is part of the play considering its title but its first-hand experience of it makes for an interesting twist. The playwright, Sarah Ruhl, has some interesting ideas of death and what happens when it actually arrives.
The play is very well written and modern, which makes it fun and easy to apply to many people's daily lives.
All the actors did a fantastic job of engaging the audience in the play. Even the stage transformations were entertaining to watch as the stage managers, who did not only match the white curtained background, but also were completely synched in their movements.
I was shocked at how quickly two hours went by and I left the theater with a renewed perspective on what really matters in life.
The play will run through May 2 at the Jurkowitz Theatre. Tickets are $8 for students, $13 for seniors and $16 for general admission. For more information on tickets visit theatergroupsbcc.com or call (805) 965-5935.