City College Jazz performers light up the stage at SoHo
The Channels Art Pages | STAFF REVIEW
With an extensive array of multitalented City College musicians, students and faculty from the music department presented an eclectic night of small ensemble jazz at SoHo Tuesday night.
Candle-lit dinner tables surrounded the brightly illuminated stage, providing an accurate imitation of a classic jazz venue.
Latecomers scurried to their seats or hovered in corners of the packed music club as the first musicians hit the stage, tuning their instruments in preparation for a promising night of jazz tunes.
Opening the show was The Eclectic Jass Orchestra, led by Dr. Chuck Wood and composed of city college instrumentalists.
The first tune, "Doxy" was a vibrant opener, featuring solos that engaged the audience and called for mid-song applauses. Followed by a velvety, relaxed tune providing a perfect contrast to set the mood.
For the last two songs, the band was joined by vocalists Anna Kasper, Amanda Zavala, Duan Jeon, Satchawat Duangnuang, Michelle Neilson and Ariel Kaye. Woods left the trumpet and picked up the xylophone for a beautiful arrangement of "Summer Wind." The three male and three female voices synchronized gracefully and each took turns for featured solos. They closed their set with "I Could Write a Book," a charming song about best friends falling in love.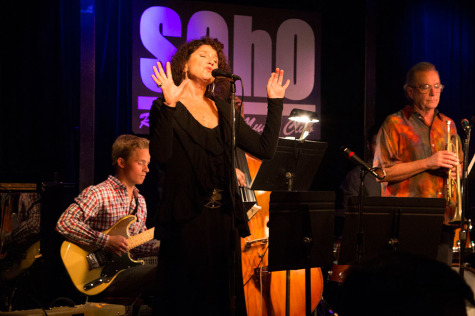 The first and second tunes were instrumentals only and provided standout solos for each instrumentalist, all of which were met with a warm applause by the audience at the end. The last two songs featured the vocals of Diane Hall, who stole the set with her vibrant voice and captivating stage presence as she engaged with both the audience and the ensemble.
The Kind of Blue Combo under the direction of Andrew Martinez was possibly the highlight of the night with a four-song set of songs that highlighted vocals as well as instrumental solos.
Student Jesslyn Brund showcased her strong vocals as she swayed with the music and engaged with the band members on stage almost effortlessly. Her show-stopping performance was in the third song of the set "Take the A-Train," as her vocal range soared in synchronized "do-ups" with Ybarra's sax.
Brund and Joensson joined forces for a duet piece in their final song, "Mr. Magic" which opened with a rock-like guitar riff and had all of the musicians practically dancing on stage.
The Interplay Jazz Combo also directed by David Campos took the audience back into an instrumental series of jazz pieces in a format which provided stand out solo performances for each instrumentalist.
Lastly, New World Jazz Ensemble closed the night under the direction of Tony Ybarra, featuring the most advanced students.
In between solos, Ybarra piped up to announce the names of each soloist as the audience applauded in gratitude and amusement. The band synchronized flawlessly closing the show with lively four-song set.
With no conductors to cue them, the ensembles managed to communicate effectively and emotively in order to put on a great show of eclectic jazz on a rainy night.