District 2 Miller vs. Morse
The City College Board of Trustees is holding an election Tuesday, Nov. 6, with incumbent Robert Miller and challenger Brandon T. Morse vying for a seat.
Both candidates are campaigning for the seat representing District 2 Goleta and have a history of local activism. This seat has not been contested in the past few election cycles.
Miller moved to Goleta in 2014 after working for about 30 years as a trial lawyer and soon after formed the Westside Goleta Coalition. It's mission was to oppose the construction of a building for the California Highway Patrol many believed would degrade the peaceful, residential atmosphere of the west side of Goleta. The group's efforts were ultimately a success and plans were made to build the facility elsewhere.  
Morse attended City College and later UCSB, helping former City College Student Senator Nicholas Steil bring shower access to the college's homeless student population. He also led a civil rights group advised by former philosophy chair Joe White, The Free Thinking Patriots Club, in advocating for people's Fourth Amendment rights and police accountability.
Though the trustees are non-partisan positions, the party Morse identifies the most with is the Libertarian Party.
"I'm fiscally conservative and politically liberal. Both the Republicans and the Democrats have abused the trust of the American people," Morse said.
"It's not about party. At the end of the day, liberty is everything: If I'm not hurting you and you're not hurting me, generally speaking it's none of my business."
Robert Miller has been endorsed by the county's Democratic Party, and has always been a Democrat, having been inspired by former President Kennedy at an early age.
One of the major policy changes he wants to see is for education to be free for community college students.
"I was struck in 2015 when President Obama made a speech and said essentially that education ought to be free and available to all students through the 14th grade. I think that's where we should be going," Miller said.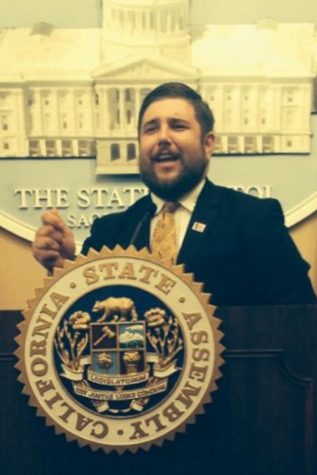 Miller was appointed to the board on Feb. 8, following the resignation of Marianne Kugler. During his time on the board, he was one of the members who pushed for the creation of a committee to address gender equity, sexual harassment, and civil communication issues on campus in response to concerns about the college administration taking insufficient action to solve these issues.
"I think the administration and Anthony Beebe has done a good a job as could be done to try to lower the temperature and get people to talk to each other," Miller said.
If Morse is elected, two of his priorities will be opening up one of the campus parking lots to allow homeless students a safe place to sleep and eliminating the free speech zones on campus, as specified in Board Policy 3900.
"The concept of free speech zones is offensive to me," Morse said. "People shouldn't have to worry if they're in the correct space on campus to give out a handbill, as long as they're not in someone's face with a bullhorn.
"Even inside an Administrative building, if someone inside the Administration is doing something so egregious that you have a substantial portion of the student body that decides to go protest it, good for them. I completely encourage free speech in all manners that are safe."
The election is Tuesday, Nov. 6. Information on how to vote is available here with online voter registration open until Monday, Oct. 22 and available here.Voters can find the location of their polling place and online sample ballot here.