Men's volleyball topples Irvine to win fourth consecutive match
City College men's volleyball won its fourth straight game after an intense five ­set match against Irvine Valley College Wednesday evening at the Santa Barbara Sports Pavilion.
The Vaqueros (4­-1) beat the Lasers by set scores of 25-­22, 16-­25, 25-­20, 23-­25 and 15-­11.
"They have a good team and it was a good test for us," head coach Matt Jones said. "It went kind of back and forth, it was a close game."
The first set started out slowly. With his team down 9-8, City College freshman Jeremy Berch (No.16) tied the game at 9 apiece with a great smash that got his team to heat up.
"Jeremy did a nice job." Jones said. "He's new to the team, but he has picked up a lot and developed his game by making smart decisions."
The teams traded points back and forth up to 20­-20. Then City College took over. Sophomore To'o To'o (No.13) and freshman Sean Reynaert (No.11) made huge plays to win the Vaqueros the set, 25­-22.
"Sean played a nice match and made some crucial points." Jones said. "We didn't use him so much in the offense as we maybe should have."
The second set started much differently. Irvine Valley went on a four kill streak and took a 5-2 lead early. The Lasers kept their lead for a while but with great plays from To'o and Reynaert the vaqueros took it back, going up 14­-13.Then it went downhill for City College. Irvine scored eight points straight and easily finished off the set, 25-16.
"We got stuck in our game but I told them we're still playing good volleyball, don't worry.'" Jones said.
The Vaqueros came out strong in the third set. With, great plays from Berch, freshman Casey Alper (No.10) and freshman Taylor McCluskey (No.4) the Vaqueros gained a five point lead. Freshman Shaft Wesley (No.7) had a huge smash to clinch the third set 25-20 for City College.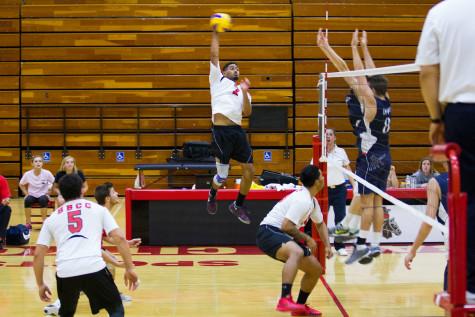 "It was a good, fun game and I really enjoyed it," Wesley said. "I tried to bring intensity and energy to the team throughout the whole game."
City College's momentum carried into the fourth set where they would take an 8-4 lead. The Lasers responded with five straight kills of their own to go up 9-8. This was an intense set and the teams battled until Irvine had a 24-23 lead. The Vaqueros came close to sudden death with a smash from McCluskey, but the Lasers rallied and took the  set 25-23.
The fifth set was close as well. McCluskey fired up and made a huge play, followed by an ace serve giving the Vaqueros a 7-6 lead. City College would never give the lead up. McCluskey would eventually smash the set home 15-11 to win the Vaqueros the match.
"It's awesome to have Taylor on the team," Berch said. "He gives it all and helps the team a lot."
City College's next game is 6 p.m. Friday, Feb. 13 at Orange Coast College.