SBCC and Cottage Hospital collide—boost concussion tech
Cottage Hospital is teaming up with City College to take the increasing number of concussion related injuries in sports, and tackle them head on.
The Santa Barbara Cottage Hospital Foundation awarded City College an $18,913 grant to purchase 160 Triax force meters, according to a City College press release.
"We're at the forefront of concussion protocol and awareness," said Head Football Coach Craig Moropoulos. "And I think that's a good thing…. I'm 100 percent for it."
Triax, a Connecticut based company, provides the new technology that the athletes now sport in practice, as well as games. The sensors, worn as headbands, are being used for football, men and women's basketball, and men and women's soccer.
"Tracking head impacts over the course of an athlete's career gives you the information you need to make smart decisions to keep players safe, now and in the future." Triax states on its website.
The coaches and trainers are equipped with an app on their smartphones that notifies them immediately if a player of takes a hit above the appropriate threshold.
The new technology obviously won't prevent a hard hit from happening or add extra protection to a player, but the focus is to prevent an athlete that suffers a dangerous hit from returning to the field.
"(Concussions) come to light when not treated correctly," said Men and Women's soccer head coach John Sisterson. "People are allowed to play sporting activities, and there hasn't been the recognition of a concussion after (an athlete experiences a hit to the head)."
According to clearedtoplay.org, 15.8 percent of football players who sustain a concussion severe enough to cause loss of consciousness return to play the same day.
That needs to change.
"I think the intent is excellent," said Moropoulos.
City College athletes are also well aware of the unique technology and embrace it.
"It's cool knowing that we could be the start of something big," said Jay Terry (No. 91), football's defensive lineman. "In a couple years, this might be a requirement to play."
Clearedtoplay.org also states that 50 percent of "second impact syndrome" incidents, which is a brain injury caused from a premature return to activity after suffering initial injury (concussion) result in death.
"I think it's a necessity to monitor concussions more," said Sisterson. "It's got out of hand in some cases, even in the professional game."
Red shirt freshman soccer player Linda Miranda views the new technology advancement as "smart" and "cool" for the school as well as her and her teammates.
The new system brought to City College comes at a time where an estimated 1.6 – 3.8 million sports related concussions are reported every year according to momsteam.com.
Most would attribute the concussion reports to football. However, soccer is also a big concussion sport. With 265 million people playing the sport, 4 percent of the world population according to FIFA.com, injuries are common.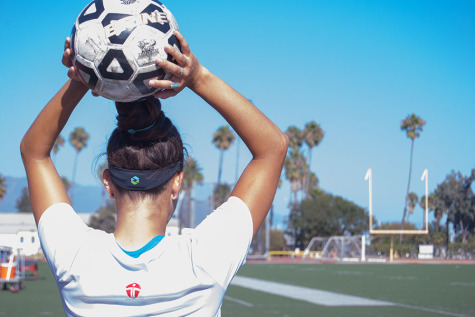 Football however has taken over as the most watched American sport to date. According to an Adweek/ Harris Pole, 64 percent of U.S. adults (73 percent of men, 55 percent of women) say they currently watch NFL football. It's only fitting that more youth will want to play the game they also watch every week on TV.
In 2010, ESPN outside the lines reported that a record 248,899 players participated in Pop Warner football, the nations largest youth football program.
But the danger of the sport and its consequences has risen to the forefront of all levels in football. Concussion talks in football started to heat up in 2012 after former San Diego Chargers team captain and first ballot Hall Of Fame Linebacker Junior Seau committed suicide.
Seau had signs of chronic traumatic encephalopathy (CTE), which is a degenerative condition many scientists say is caused by head trauma and linked to depression and dementia.
CTE is indicated by a buildup of tau, an abnormal protein that strangles brain cells in areas that control memory, emotions and other cognitive functions.
Autopsies of more than 50 ex-NFL players, including Hall of Famer Mike Webster and perennial All-Pro Junior Seau, found such tau concentrations.
In order to prevent more cases, especially in ones from Pop Warner all the way to division one collegiate, the data collected will be put to great use, locally, and eventually, nationally.
"The data will support potential research projects led by Dr. Stephen Kaminski, Director of Trauma Services at Santa Barbara Cottage Hospital, that would compare telemetry data (linear and rotational g-force impact data) with imaging data as well as cognitive function," said Ryan Byrne, City College Athletic Director. "This will allow for the study of how forces sustained during athletics may impact the brain."
After the 2012 concussion lawsuits and the death of Seau, the NFL expanded its rules to prevent "defenseless players" taking hits above the shoulder pads. NFL Commissioner Roger Goodell aimed to protect the player's safety, while "keeping the integrity of the NFL" according to NFL.com.
At City College, the programs are a middle ground for collegiate sports. It acts as a feeder system for major college programs, and the athletes are given a chance to move on to these schools with high performance, and monitored health.
Follow The Channels on Twitter @thechannels or email us at [email protected]