I learned to put myself first after escaping my toxic relationship
The Channels Opinion Pages | STAFF COLUMN
I spent 18 years of my life living with my mother, sister, and wonderful stepdad in my home in Chicago, Illinois. Soon after I turned 18, my plan was to move to Isla Vista and attend City College with the goal of eventually graduating from the University of California, Santa Barbara. 
Along the line, I met someone I thought I could see a romantic future with. Unfortunately, he had committed to a plan of moving to Dallas, Texas as soon as we graduated. The thought of losing him clouded my judgment of what I wanted for myself. I cut off my plans of moving to Isla Vista and moved to Dallas for him. 
Moving to Texas broke my heart.
Graduating high school and going to college was supposed to be an exciting experience and instead I felt nothing. For him, I was willing to do just that.
My beautiful mother supported me all the way no matter where I chose to move, but deep inside it was breaking her heart. 
I still remember the day I brought up City College to my mom during my sophomore year of high school. In my mind, I thought that this silly idea would never present itself to be real, that there was no possibility my mom would be able to financially support me in a place like California by herself. 
Little did I know that for the next three days she would be researching on her iPad all throughout the dark night to make my dream become reality. I still remember the day I received a text from her that read "I think we can do this."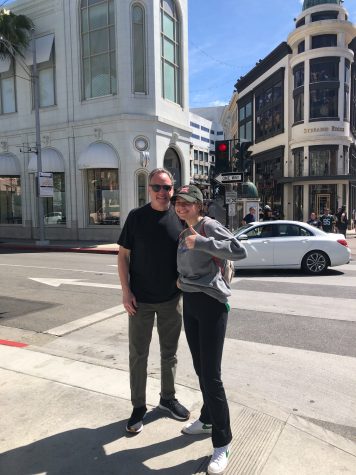 I left this all behind for a boy who delivered distress, depression, and agony to my heart and mental health. Endless fights, crying, and begging to be shown the smallest ounce of affection were the result of my decision. With no family in Dallas, I felt hopeless. I turned back to old unhealthy coping mechanisms. I began starving myself for days at a time and laying in bed for hours on hours.
Despite my pain, I received great gifts of friendships and lessons learned. I met some of the most beautiful souls to exist during my time spent in Texas; those people are truly what got me through my hardships. 
Everyone around me would always tell me from a young age that everything happens for a reason. I never understood what that meant until going through that year in Dallas. If I had moved across the country to California right out of high school rather than a year later, I would have most likely never have met all the extraordinary people that I call my friends. More importantly, I would have never become the version of myself that I am today.
That person is one who always puts herself and needs first, the girl who chases after her dreams no matter how insane they may seem, and the individual who finally found her inner peace. Going through the hardships of life is necessary in order to become the greatest version of ourselves. 
I still have a lot to learn. Nevertheless, I am on the right path. I'm heading towards where I want to be, and going through that year in Texas got me here.