August 2004, the month that changed my life.
At two-years-old my parents never imagined I'd wake up multiple times at night crying for more water to quench my thirst, get sick after eating only one lollipop or throw a temper tantrum in front of everyone during my aunt's wedding pictures.
After four days straight of waking up in the middle of the night from thirst, my mom started to think about the one thing she hadn't seen coming.
At two-and-a-half-years-old, I spent an entire day going from doctor to doctor and was finally diagnosed with type 1 diabetes.
Story continues below advertisement
According to Beyond Type 1, a non-profit that educates and advocates for diabetics, type 1 diabetes "is a chronic autoimmune condition that makes the body unable to produce insulin, which is the hormone that regulates blood sugar."
I remember a time before my friends and I drove, our parents would drop us off downtown. We'd designate pick up spots. This specific time my friends wanted to race to one more shop even though we were already at the pick up spot.
I told them to hold on a moment, I had to check my blood sugar. They decided, because they had to wait for me, that we no longer have time to go.
I know they didn't do this on purpose, but it still made me feel bad. 
At school people always wondered what I was doing when I brought out my testing kit to check my blood sugar.
I didn't mind them watching me, my diabetes wasn't a secret. I hadn't had anyone be mean to me in elementary and preschool because of what I had to do.
It wasn't until sixth grade that someone called me "needle girl."
My friends and I left our bags at our usual lunch spot to grab some food. While we were gone a boy went through my bag and saw my supplies — including needles. At that time I was using needles to inject insulin instead of an insulin pump.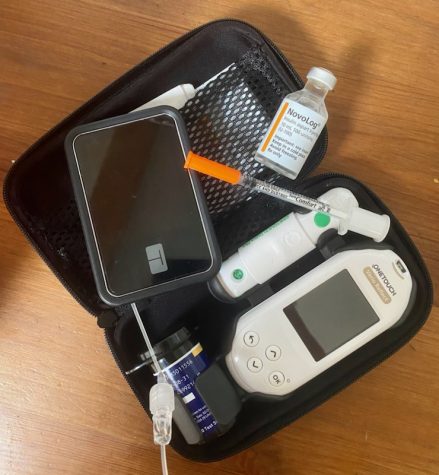 A pump is a medical device used to administer insulin for the treatment of diabetics, whose bodies do not produce their own insulin. Diabetes shuts down your pancreas, the vital organ that produces insulin for your body.
Being called "needle girl" didn't bother me. I was just caught off guard because no one had ever called me a name because of my diabetes. I was more bothered by the fact he thought it was okay to go through my bag.
After this episode, I didn't have another run in with anyone calling me names because of my disability.
Having diabetes is like having a full-time job on steroids. You have to monitor yourself 24/7. There are times I go into denial about having diabetes. I'm over having to constantly prick myself with needles or give myself insulin when I eat.
There are times when I get so frustrated and angry that I have to live with this health condition that I cry and scream about it with my mom.
Due to the frustration and denial, it causes me to go through periods of time where I neglect my diabetes. I've never gone to the hospital for it and I want to keep it that way.
But about a year ago there was a day where I came close. 
I lived with my aunt at the time and had a lot going on and was not taking very good care of myself. I wasn't checking my sugar levels or giving myself insulin every time I ate. This caused my blood sugar to spike for a long period of time. 
When your blood sugar is high all the time you can go into hyperglycemia — basically, too much sugar in your system. Hyperglycemia can cause nauseous periods, excessive thirst, vision problems and other bodily system shutdowns. Untreated it can lead to serious health problems.
On this day I felt very sick and spent the entire day in bed, drifting in and out of sleep and barely eating anything because I was so sick.
Luckily, I was able to get my blood sugar back down and I felt better the next day. This was a scary experience and really taught me that I can't neglect my diabetes or can have serious consequences.
Yes, life has been crazy. I had to grow up pretty quickly and learn how to take care of myself from a young age, but I've learned not to let it define me or hold me back even though it is such a big part of my life.