When enjoying outside dining, don't forget about the workers
The Channels Opinion Pages | STAFF COLUMN
Dealing with this new way of life during COVID-19 has forced businesses to adapt to stay open and provide the public with some sense of normality—albeit a strange, new normal.
Outdoor dining has been a prime example of this, and although the majority of the public has been understanding and compliant with the city's ordinances, there are still people who take their lifestyles for granted.
Many may not understand the logistical gymnastics these businesses went through in order to provide their customers with their outside eating experience.
Local businesses struggling to make ends meet were among hit the hardest by the pandemic. 
For those that have accommodated and are in a position to continue operations, it hasn't gotten any easier.  It has been a long series of change, adapting, and restructuring. 
I've been working as a busser at the Crocodile Restaurant and Bar for about a year and three months now. Pre-pandemic, we already had a patio area and I looked forward to seeing our regular customers fill the tables..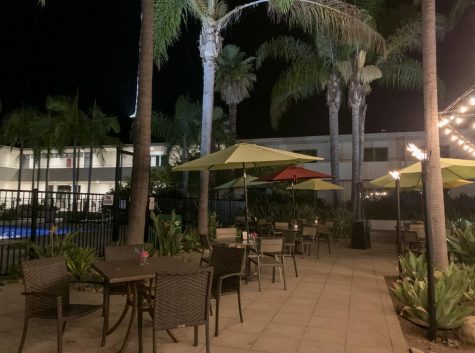 An outdoor bar was constructed last summer, with plans for an extension to the patio soon to come. In an ironic way the pandemic allowed time for the extension to be built, complete with a new tile floor, a large chessboard, two fire pits, tall gas torches and plenty of space for customers to dine.
Eating-out during this time is a luxury compared to those who are struggling to afford their groceries and bills, and as time goes on it's easy to see that those dining out right now are the ones that can afford to do so.
Besides dealing with the usual impatient or picky person complaining about the wait time on or not having their drink the way they like it, there are those who refuse or "forget" to wear their masks, even though we are months into a global pandemic. 
It's understandable that people may be easily agitated when they are "hangry", especially when it's the morning and some haven't had their coffee yet, but when you are going out to eat during a pandemic it's important to keep in mind that a lot of places are overwhelmingly understaffed, and we are putting our lives and health at risk so people can enjoy their food. 
On top of constantly sanitizing tables, chairs, salt-and-pepper shakers, hot sauce bottles, receipt books, and pens, we also have to act as a sort-of "mask-police," constantly reminding people to wear their masks when indoors. 
Though masks can be an inconvenience, it is incredibly selfish, rude and inconsiderate to those who want to protect themselves and others. We see a large number of people everyday and want to keep our staff and customers safe.
Many of the people who work in restaurants depend on these jobs for their livelihood. Though I am in a position where I have support from my parents while I'm in school, this isn't the case for everyone. 
For the server that has to feed their child and pay rent, the difference between a few dollars earned can be life changing 
When choosing to dine outside, don't forget about the employees and what they are going through.. Keep patience and understanding at the forefront of your mind and your interactions with others, especially for those who are working to provide service for the public.
We shouldn't need a pandemic to remind us to treat others with kindness.