As the sun rises after 7 a.m. on a Saturday morning, the line of cars waiting to come into the Santa Barbara High School flea market is already creating traffic on Anapamu Street, reaching a couple blocks down. 
Yanet Chase is one of the drivers, her car packed with boxes filled with clothes, books and jewelry to sell at the flea market. She has been up and ready to work since 5:45 a.m., eager to be one of the first ones to set up before all the customers arrive. 
"Los días varían: hay días que no se venden, hay días que si vendemos, como hoy fue muy buen día. Ya me puedo ir ahorita, ya saque lo que tenía que sacar de mi día," she said, meaning "the days vary: there are days we don't sell, there are days we do sell, like today was a very good day. I can leave right now, I already sold everything that I wanted to sell today."
Chase has been selling since before the pandemic, but unfortunately had to stop during the lockdown, before starting up again at the beginning of this year. She began by selling her family's used clothes and toys, but eventually extended to bringing jewelry and sports equipment. 
"Como vas viendo a la gente, te van conociendo, vas trayendo clientes. Ellos mismos te van pidiendo mercancía. Entonces uno ya va pensando que traer, "Chase said, meaning "because you are meeting people, you start to get to know them and you start to attract clients. They themselves start to ask you for merchandise. Then you start to think about what to bring."
After 45 years of living in Santa Barbara, Chase has become familiar with everyone in the swap meet; it was there that she even met her best friend Rosa Jimenez, who was the one to encourage her to start selling.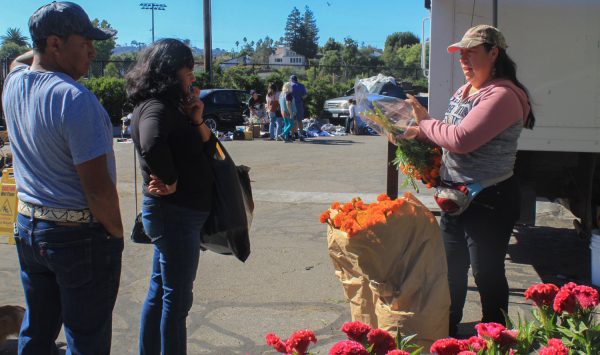 Jimenez, who would usually sell perfumes, is now selling marigolds, which are flowers used to decorate "ofrendas," or altars, for day of the dead. 
"Las personas son tan lindas, hay de todo aquí," Chase said with a smile. "Colaboradora, muy agradecios. Nos ayudamos todos aquí," which means "the people are so nice here, there's a little bit of everything. Very collaborative, very thankful. We all help each other here."
Everything is thanks to Andrew Butcher, who works as Santa Barbara High School's girls basketball coach. According to special education teacher Eric Nichoson, Butcher is the main reason why the flea market started, and why it runs as smoothly as it does today. 
The swap meet started in 1998, when Butcher noticed that there was no local swap meet in the Santa Barbara area. Having grown up in Santa Barbara, Butcher and his family would usually go to thrift stores to buy clothes and shoes, knowing how important markets like these are. 
The swap meet also works as a fundraiser for the school, allowing the girl's basketball team to volunteer and get their community service hours while raising money for their school. 
"They don't have to sell candy bars or anything," he said, laughing. "It's a win-win for everybody." 
However, less people have attended after the pandemic, with the swap meet only returning to almost full capacity the last two weeks. 
Fidelo Olivares and his wife, Virginia, have been selling at flea markets for years, traveling from their home in Lompoc to Santa Barbara on Saturdays and all the way to Santa Maria on Sundays every weekend at 5 a.m. 
Virginia started by selling tupperware in 2009, and continued selling the merchandise in flea markets, only stopping during the pandemic due to health risks. 
"Gracias a dios, hay días buenos y malos para vender, pero gracias a dios, aquí estamos." Virginia said, meaning "thanks to God, there are good and bad days to sell. But thank goodness, we are here today."
Both Olivares encourage the students from colleges to come to the markets and shop once they move to the town. 
"Que la gente se motive más. Si hay más puestos, la gente se arrima más a comprar." Fidelo said, meaning "people need to be more motivated. If there are more stalls, more people will come to buy stuff."
The flea market is open every Saturday, starting at 6:45 a.m. and closing after 2 p.m., with everything in the stalls selling for half price after 11 a.m. 
Story continues below advertisement