The nonprofit organization Future Leaders of America hosted a free screening of the movie "Blue Beetle" to celebrate Dia de Los Muertos and Mexican culture, as well as encouraged young attendees to fill out their BIPOC survey on Saturday, Nov. 4.
Future Leaders of America (FLA) is a nonprofit organization dedicated to serving the Latinx youth community in the regions of Carpinteria, Santa Barbara-Goleta, Santa Ynez Valley, Lompoc, Santa Maria & Guadalupe, and Ventura County.
"We want to create more awareness about our surveys and our goal is to collect about 5,000 surveys in the region," said Ivan Vega, Future Leaders of America policy and health manager. "So we picked 'Blue Beetle' as a good movie to invite the community to come out. We thought that it was a good representation of Latinx culture."
The survey specifically encourages responses from youth living in the local regions to gather data on current communal dilemmas. 
Story continues below advertisement
"The study focuses on education equity, health equity, access to school resources, access to city resources, and also to focus on system impacted and incarcerated youth," Vega said. "Our target population for the survey is youth between the ages of 14 to 26."
Outside of this specific survey, the FLA's main goals are to encourage leadership and youth advocacy within the community. The survey is an essential tool in growing a community of strong leaders who recognize the faults and strengths of their communities.
"We want to find out what are the youth's needs, and also what their assets are," Vega said. "We want to [find out] what their strengths are."
Vega says the data collected from this survey is necessary for the fulfillment of the FLA's goals, which is gaining "5000 signatures." To conduct proper research and encourage Latinx youth to use their voice at the local level, participation in the survey is crucial.
"Our goal with the data results is to use the results as a tool [for youth] to advocate for themselves," Vega said. "As a tool for advocacy [towards influencing] different policy changes in the cities, counties and the state."
An additional goal of the FLA is to reach all populations to get a wide range of voices within the Latinx community. With the target population from ages 14 to 26, there is room for various perspectives to be heard and taken into account.
"We're approaching this as a community-based research project where we are working with youth interns who are in high school and community colleges or maybe [students that] didn't get to go to college so that we can tap into all those populations, Vega said." "We want to make the survey reach all those hard to reach populations."
Historically, disparities within local regions originally prompted the FLA to take action, and have since fostered a growing organization that is looking for ways to uplift and improve Latinx communities.
"In 1982 youth were facing a lot of things like lack of access to education, a lot of poverty and so our founders decided they wanted to do something about it," Vega said. "The way they went about it was to provide a space where youth can just be youth and talk about things that they're facing in the community, but it also focuses on cultural appreciation and having youth feel proud about their cultural background."
In regards to the screening of "Blue Beetle, " the film was ultimately chosen as the screened movie of choice because of its immersion in Mexican culture and insight into the complexities and cultural processes that are involved in the celebration of Dia de Los Muertos.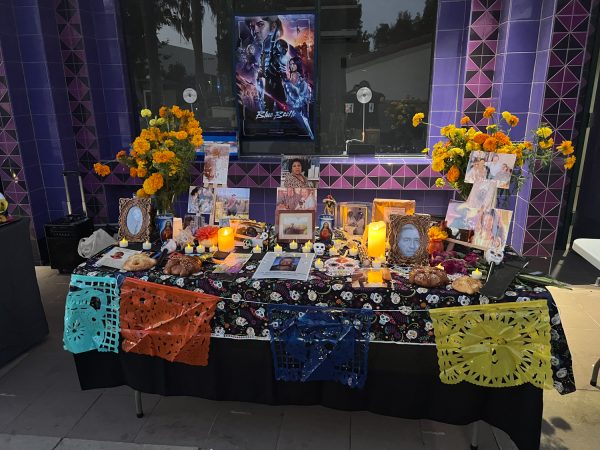 "We felt that the 'Blue Beetle' movie represents strong family values and it ties in with Dia De Los Muertos because it talks about how to mourn and the mourning processes in the Latinx community," Vega said.
The screening of "Blue Beetle" successfully brought in people of all ages to celebrate Dia de Los Muertos, Mexican culture, and to learn more about the survey. Snacks and facepaint were provided free of charge, in addition to the screening for all who attended creating a positive and inviting atmosphere.
"We felt that it's a good opportunity and a good movie to use so folks come in and participate in our survey," Vega said.