City College's Luria Library was decorated in true Latinx fashion on Oct. 5 with "papel picado" and serape blankets lining the stage, and complete with a buffet of sizzling rice, beans, taquitos, and an assortment of "aguas frescas", fresh fruit juice. 
Latin music filled speakers as onlookers shuffled in to fill their plates, grab a seat, and enjoy the "Poder en tus Palabras" open mic poetry event at 1 p.m.
The open mic marked off only one of the nine total events held at City College in honor of Latinx and Hispanic Heritage Month, which spans from Sept. 15 to Oct. 15. 
The gathering showcased a multitude of both student and faculty performances that centered on the theme of "latinos: driving prosperity, power, and progress in America".
City College International Student Advisor Miguel Cruz, 35, hosted the event. He encouraged the audience to participate as he introduced each performance – most of which were spontaneous. Cruz himself wasn't planning on performing his original poetry, but did so to break the ice at the beginning of the event.
"We didn't cross the border," Cruz recited in his first poem. "The border crossed us."
Both poems that Cruz performed were excerpts from his own published poetry book, "Suicide Notes and Love Letters to a Dying World". Many performers, however, recited other writers' poems that felt relevant to the theme.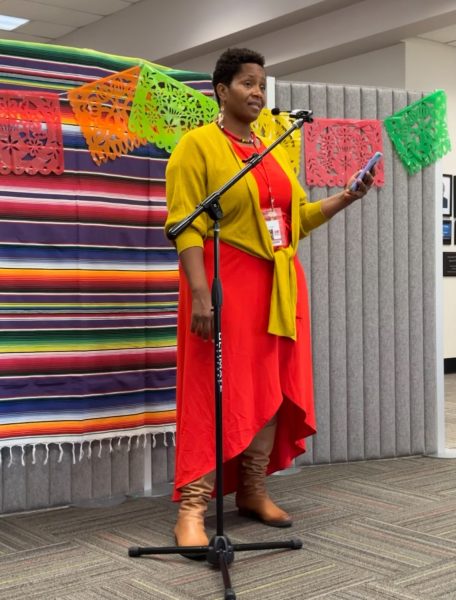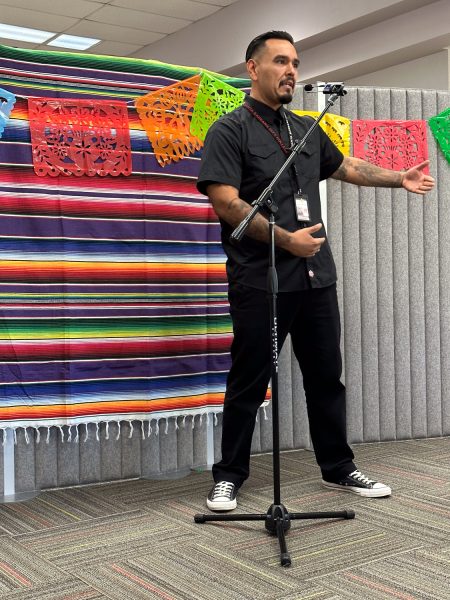 Umoja Program Advisor Lelia Richardson used her time on stage to celebrate the unification of Latinx and Black culture by reading Elizabeth Acevedo's "Ode to the Head Nod" which references the silent gesture used by African Americans and Latinx people to acknowledge one another in public.
A total of 14 performances took to the stage, including some City College faculty members such as librarians Edgar Alvarez and Selina Portera. 
Latinx people spoke of their relationship with their culture and identity.
"Our people have lived through genocide and we are still here," Cruz said, discussing the meaning behind his poem. "So it's about resilience, I guess. And the sacredness of us just being alive."
His favorite performance of the afternoon was that of his dear friend Leslie Marin Juarez, the Dream Center's Student Program Advisor. When Cruz worked with her at City College's Extended Opportunity Programs and Services (EOPS) years prior, he noticed that she was often reserved and shy. At the open mic, Cruz was touched by her vulnerability to share her own work.
"It was just beautiful to see her shine like that," Cruz said.
Organizing the event was a collaborative effort, with help from librarians Sally Chuah and Selina Portera, the Raíces faculty, and the Center for Equity & Social Justice (CESJ).
The Raíces faculty expressed hopes to collaborate with Umoja, CESJ, and the library in the future in hopes of making open mic events a regular occurrence. Cruz is eager to create more events that focus on amplifying student voices. He described open mics as a welcoming space for students that provides them with a platform to speak their mind and inspire others by sharing their story. "Their words might even resonate with others," said Cruz. "The true nature of art is to share."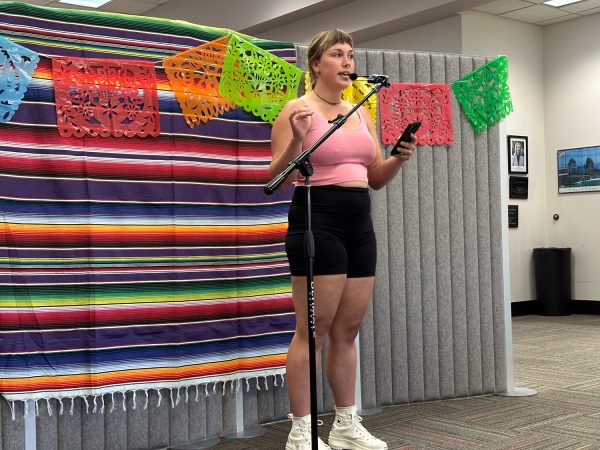 Story continues below advertisement