The Applied Music program at City College grants eligible music majors private lessons and performance practice. Their monthly concerts feature members of all ages, backgrounds, and skills, united in their passion for music. The first Applied recital of the year was held on Sept. 29 at 12:30 p.m. and included individual performances, either singing or playing an instrument, with most accompanied by John Douglas on the piano. Four out of the eight performers sat down after the concert to share more about their musical identity and experience.  
Angel Valenzuela (M), 30, vocalist
Q: Why did you choose to participate in the Applied Music program?
A: I'm a returning music major. I had started originally back in 2017, but kind of got a little discouraged and switched majors. I realized that music is my one main passion, and I felt like the Applied Music Program would really help me kind of find my momentum again.  
Story continues below advertisement
Q: Do you ever experience performance anxiety? If so, how do you remedy it?
A: I have tremendous performance anxiety. I had an experience when I was younger where I was singing in front of my friends and they all laughed at me, and it was mortifying. Since then, singing in front of anybody…I would, like, freeze up. It's been a journey trying to get over that. I remember to breathe and just be whatever about it. You know, like, nothing matters. 
Q: If you could collaborate with any musician in the world, who would you pick and why?
A: I would choose Mitski. She is, like, one of my all-time favorite artists. I don't even know how to describe it. She's making art. Like, all music is art, but she has a really good way of conveying emotions – even without a narrative in her music – that I love so much. It's just so raw and powerful.
Q: Do you have a favorite musical genre?
A: My favorite vibe to listen to is, like, the yearning, wistful, longing, sad stuff. And because of that, I'm not allowed to have the AUX cord in the car.
Q: What do you think most people don't know about being a musician? 
A: I think there's a lot of technical aspects to it that people don't understand. Like, yeah, it is very emotional and raw. But to have the groundwork and the technique is almost very mathematical. Music is easy to get into but hard to master.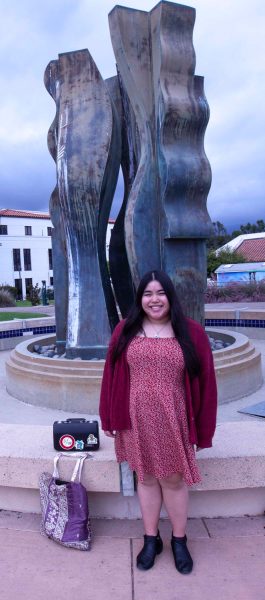 Micah Martin (F), 19, clarinetist
Q: What is your favorite part about performing?
A: I think…improving my skills individually. Playing with other people, you're complimented as a group. When you perform alone, the comments are more personal to you. This sounds a little weird, but I like the criticism.  
Q: You started playing the piano and the clarinet in fifth grade. Is there one that you prefer?
A: I love listening to the piano more, because there's so many things you can do with it. But playing wise, I do like the clarinet more. It's easier – you can only play one note at a time. You can take it with you anywhere. But mainly, I think that playing the clarinet was the first choice that I made in music. I can semi-play other horns, but nothing else has sparked my interest in that way. Something about the clarinet just drew me in.
Q: What do you think most people don't know about being a musician? 
A: I think they think that there is only one successful path, and that is mainstream pop stuff. Like, if I see you on TV or in gossip magazines, you've made it. But there's other ways of being successful in music. Music educators are very important. My high school music director got nominated for a Grammy for his music education.
Q: What led to your passion for music?
A: I kind of don't believe people when they say, like, they love music 24/7. I think if you truly love music, you know when to hate it as well. Not going to lie, there was a point in time when I wanted to quit all forms of music. I remember I took a month-long break because I felt like I couldn't see myself improving. But I came back and got inspired again once I could finally see myself getting better. I don't want to be playing if I can't improve.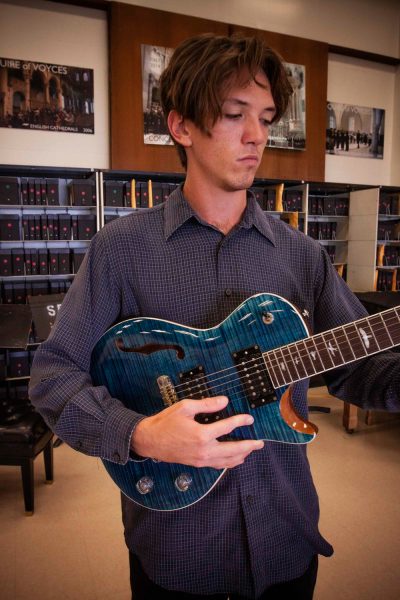 Kayne Hunter (M), 20, guitarist 
Q: What made you want to start playing jazz?
A: I always say that it's, like, a musical maturity thing. I went through rock, as a guitar player, you know, Jimi Hendrix and all that kind of stuff. Then, as I started playing more, I just wanted to learn more about music. And jazz is an acquired taste. Almost like wine. 
Q: What led to your passion for music?
A: I have one person to thank. His name is Buckethead. He's a guitar player who wears a mask on his face and a KFC bucket on his head, and he's like 6 '8″. He has this huge guitar because regular guitars are too small for his body. No one knows who he is, but he played in Guns N' Roses for, like, two years. He basically made all these crazy noises that I had never heard before, and I wanted to learn how he did it.  
Q: When did you start playing the electric guitar?   
A: I never know the answer to this. I always tell people seven or eight years, but I've lost count. I've been doing it for so long that I think it just became a part of me at some point. I remember I originally started on the ukulele. I was learning Guns N' Roses songs on the ukulele in my house before my friend let me borrow his guitar.   
Q: What do you think most people don't know about being a musician? 
A: No one is naturally gifted in the music world. You see these good musicians, and the only reason they're good is because they practice for, like, eight hours a day. Like, for the top musicians, that's the standard. I think that's a big misconception. People always say that I'm naturally gifted at the guitar, and it's like, no. I hate when people say that, because I put in a lot of work to get good.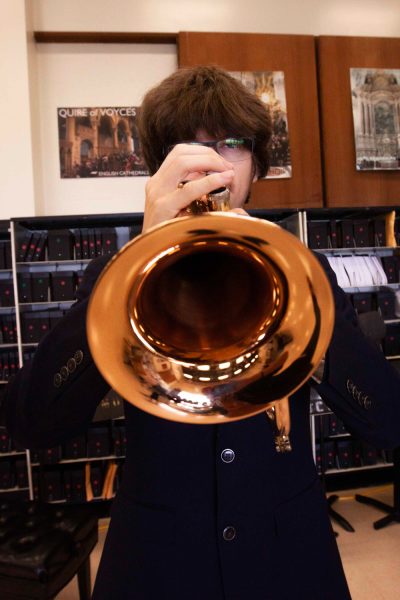 Conrad Stinson (M), 18, trumpeter
Q: Have you had a lot of experience with musical performances?
A: I've been playing the trumpet for 10 years, mostly through school bands and stuff. So I'm pretty used to it. 
Q: What is your favorite part about performing?
A: That's interesting, because I feel like it's the whole process leading up to it. And you get to dress up all fancy and stuff. Plus, you get the relief afterwards of, like, "thank God that's over with". 
Q: Where do you see yourself in 10 years?
A: Probably some sound engineering, mostly. That and composition, working in the studio – stuff like that. I like making music for games. There's a really obscure game called PixelJunk Shooter that has some really cool tracks and very experimental music in it, which I like. 
Q: What do you think most people don't know about being a musician? 
A: When someone goes up on stage, all you see is that they're there and they're playing a song. You don't really think about all the effort that went into practicing it, or even composing it. They also don't think about the audio engineers who do a lot of work behind the scenes, making it all sound good. Maybe some people don't even care, and they're just there for the music and not for you as the performer.
Q: What do you think led to your passion for music?
A: Music has always been in my family, even since I was a little kid. My dad used to blast his guitar in the garage, and I guess I kind of just grew into that. Which, of course, led me to find out that I have perfect pitch. I figured I might as well use that. 
Q: At what point in your life did playing the trumpet transition from a casual hobby to a cultivated craft?    
A: I think it was in high school when I started taking it more seriously. When COVID hit, I just started practicing a whole lot since we had nothing else to do. I learned so much from that, and I think that's why I am where I am today.