61st annual Reno Jazz Festival offers new ideas to SBCC bands
The end of the spring semester signals the return of finals for City College's students, but for the music department, it is the greatly anticipated annual trip to the Reno Jazz Festival.
After numerous hours of lengthy, diligent rehearsals, the zealous musicians prepared to display their hard work on Reno's big stage.
"The performance pressure was really intense," said Jim Mooy, the music professor at City College. "This was something to shoot for."
The Reno Jazz Festival, now celebrating 61 years, has ventured to provide a prestigious scope for creativity and musical excellence. The experience unites jazz enthusiasts from across the nation, including students, directors and industry professionals, and allows them to collaborate in a series of workshops, clinics and concerts.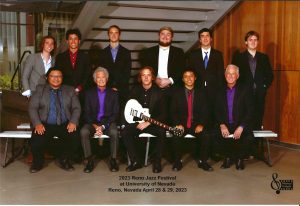 The festival was hosted from Apr. 27-29, at the University of Nevada, Reno. Mooy's Lunch Break Big Bang, Professor Eric Heidner's Good Times Big Bang and Professor Ed Smith's New World Jazz Ensemble performed in the festival among over a hundred other schools.
Bright and early on Friday morning, the three bands boarded a bus in Santa Barbara and drove all day to the event in Reno. The very next morning, they rose out of their beds and walked right onto stage to begin playing, with some students having back to back performances as they were in multiple bands. 
This year, the festival decided to award bands constructive criticism, rather than trophies. After a warm up session, the students had 55 minutes to play their music in front of an audience and the two acclaimed jazz artists who were judging that particular venue. The judges then went onto the stage to provide their personal critiques. They spoke about their strengths, and what they could do to improve their future performances. Because they spoke to the musicians on stage, the whole audience had the opportunity to learn something as well, and apply that to their own performances. This year, the festival wanted to promote gender equity in jazz, so there were as many female clinicians as there were males.
"All the judges were very helpful," Mooy said, who had been a judge in the previous years. "Not only did they tell us where we could be better, but how we could improve."
Along with the perspective change and bright set of ideas, Mooy said that the festival was also his chance to network for his students. Being from a two-year school, some students had been considering music programs from various universities to transfer to. Because of that, it was important for the instructors to communicate that interest with the directors from those schools.
"I get to renew ties with other college directors…and help the students matriculate to a four-year school," Mooy said. "It's almost like a pre-audition."
According to Mooy, the countless hours of training were worth every moment in Reno. The students and faculty left the stage with more confidence than when they walked on.
"We sat through a lot of long, hard work," Mooy said. "We were just having so much fun on stage…I'm incredibly proud of them."