People cheered and clapped as musicians of all ages who are associated with Jasmine's Alternative Music School (JAMS) came together to put on a show on April 14 at the BC Forum.
Divya Ramesh, the vice president of service for Phi Theta Kappa, was the mastermind behind the event, which was her personal project for the spring semester. In her role as vice president, Ramesh executes one main project each semester with Phi Theta Kappa. This specific event was personal for Ramesh as she grew up connected to music and feels as though it changed her life for the better. The vice president explains that her main objective is to inspire those who joined for this occasion to jump into the music scene. 
"This will help so many children who are from low-income families or financially disadvantaged to be able to have an affordable music education, and so it was really important to me to be able to support a school like this," Ramesh said. 
All funds accumulated from the event will go to the JAMS. The music school primarily functions on a volunteer basis and has been struggling with staffing according to Ramesh. The expectation is that the money raised through donations and tickets sold for the event will help contribute to these issues. 
Story continues below advertisement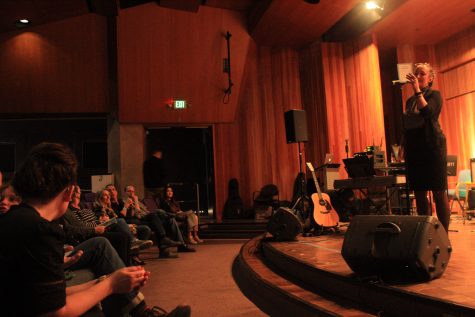 All those who joined for the event took their seats as Crystal Hosea, a vocal music facilitator who teaches voice and music lessons at JAMS, stepped onto the stage. She expressed her gratitude for those who came and introduced all the individuals who would be playing. 
"For me, music is a language, it is a form of communication and is very special," Hosea said. "I felt like JAMS was a place where I could be free to explore with my students and really allow them to fall in love with music, and not just be all about performing, but focus on sharing music."
Many students performed, including Aydin Bultan who played drums in his band Girl From the North County. They played a total of seven popular songs including "Zombie" by the Cranberries and "Creep" by Radiohead. As they wrapped up the set, the audience gave them a standing ovation. 
"I am trying to gain as much experience as I can for college so that I can get into music school and other well-educated places," Bultan said. 
Near the end of the event, all the lead instructors from the group came up to the stage to perform three songs, one of them being "Three Little Birds" by Bob Marley and the Wailers. They incorporated interactive aspects into their performance, as their points queued the crowd to join in unison with them.
By the end of the night, they raised $388 from the contributions of six donors. Though the event did not reach its initial donation goal of $2000, all those who volunteered to play had nothing but a smile on their face when the event came to an end.