"We look forward to seeing you in 2024!" The phrase proudly displayed on the main page of the Dos Pueblos High School Instrumental Program referencing their Instrumental Music Benefit Concert that took place on March 4 at the high school campus. The excitement for the next annual music festival is already rising among many staff and students. 
But since the last Dos Pueblos Jazz Festival goes, there are a couple of attendees still buzzing with the thrill of the music-filled night. 
Three City College jazz bands performed for the audience and judges at night.
Eric Heidner, a music professor at City College and director of the Good Times Jazz Ensemble was judging the performances in the morning for the high school portion of the competition. 
Story continues below advertisement
"It was not just to get feedback and not simply scoring but giving verbal commentary," Heidner said. "It's important to have music at all ages."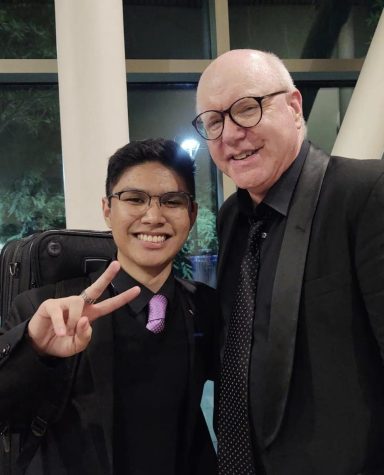 Good Times Ensemble was also honored with first place in the competition in addition to getting to make the legendary professional trombone player, Alex Iles.
"He was a delightful, friendly, optimistic, encouraging person," Heidner said. "It's hard not to feel more motivated after meeting him."
Isabella Eva Duncan, a student and tenor trombone player for the Lunch Break Jazz Ensemble was also present at the event and was able to do more than just meet Iles, she and her bandmates were able to play with the famed musician.
 "Alex was a sweetheart," Duncan said. "He gave us advice, to the entire band, not just to our trombone."
Iles played solo after the Lunch Break jazz performance. The audience and the college students were starstruck at his talent. "You could tell that everyone in the audience was there," Duncan said. 
Since the tenor trombone player for the Lunch Break Band did not compete in the actual festival, the musician had some advice to give. "If you are interested in music, take the opportunity, even if it doesn't work, you will have one of the best experiences of your life," Duncan said. 
Adding on, she shared what her experience of the actual festival has taught her. 
"Since we are all from the same area, we have all been taught by the same people so we all have similar styles," Duncan said. "You learn more techniques for your music."
City College music professor and conductor of the Lunch Break Jazz Ensemble, Jim Mooy, was another music instructor from City College to attend. 
"These events gave us goals; something to shoot for," Mooy said, expressing how the students receive "lots of praise followed by guidance".
Mooy was also able to meet Iles, he chimed in his own view about the famous trombone player. 
"I have known Alex for years, but the students were clearly impressed," Mooy said. "Mouths were wide open when he began playing with us."
Everyone that attended the concert had a music-filled night, regardless of being a musician or not.