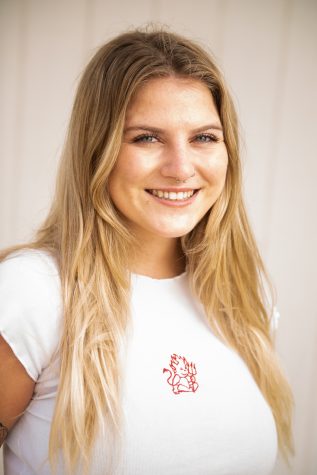 I've never been immensely moved by a materialistic piece of art, but emotional performing arts impact me deeply.
The YouTube video of Galen Hooks' choreography to "I Love You" by Billie Eilish never fails to move me to my core. This dance portrays heartbreak, passion, independence and so much more.
Posted Sept. 24, 2019, this video contains nine dancers each doing a solo dance for one minute and 40 seconds. 
Story continues below advertisement
Before watching this video, I'd never felt so heavily connected to a piece.
Growing up, I danced competitively for 16 years. Dance was my outlet, it allowed me to express myself in a way nothing else could. I was able to put movement to whatever I was feeling and build an emotional connection with those around me.
Whenever I feel uninspired, I watch Galen Hooks' dance classes and choreography videos online.
When I came upon her choreography to "I Love You," I was left speechless.
Galen Hooks is an American dancer, choreographer and creative director, amongst a variety of other talents.
Hooks has been choreographing for over 20 years and has worked with acclaimed artists such as Janet Jackson, Rihanna and Justin Bieber. Her unique style caught my eye about four years ago and no other choreographer has compared since then.
The video begins with Hooks herself performing the dance, setting an intense and soul-stirring emotion for the remainder of the video. 
With help from the videographer and film director, the dance is truly transcendent into a beautiful piece of art. Every angle and shot captures a new, raw emotion that creates a connection between the dancers and the viewers.
I don't believe there's a way to watch this performance and not feel anything. 
Hooks finds a way to touch something in your soul with simple movements and heavy facial expressions. The dance is quite simple, but the way Hooks and her troupe perform uniquely forms something that has never been done before.
In the description of the video Hooks says, "The theme of this class was marrying acting with dancing, and specifically working on the skill of performing for a camera with choreographed camera movement."
This type of performance is an impressive skill because of how difficult it can be to execute.
"It is rare for dancers to be hired for jobs where they get to perform solo and interact with a camera, so this class was a way of creating the opportunity for them." Hooks said.
Not only are the performances captivating, but they were also vastly beneficial to the dancers themselves for their work experience.
Apart from the choreography, Hooks' song of choice, "I Love You" by Billie Eilish, is a masterpiece itself. Eilish captures raw heartbreak within this beautiful song. 
Eilish expresses the feelings of a tragic breakup with lyrics such as "I can't escape the way I love you, I don't want to, but I love you."
With the mastery of choreography and the emotive song combined, a powerful artwork is created by the movements of Galen Hooks.