Drive-In screens Patagonia conservation documentary
West Wind Drive-In hosted two showings of "Public Trust: The Fight for America's Public Lands" Wednesday night that were the first non-festival screenings for the Patagonia backed film.
But with over 250 cars spread safely across the lot, and attendees enjoying the food trucks and a live DJ more than half an hour before the event began, there was certainly a festive atmosphere.
"Arts & Lectures moved our annual free summer film series to the West Wind Drive-In so the community could come together and enjoy while still following COVID-19 guidelines," said UCSB Arts & Lectures senior writer and publicist Caitlin O'Hara.
The event was co-presented by Patagonia and UCSB Arts & Lectures, together with the UC Santa Barbara Department of Environmental Studies and the Bren School of Environmental Science and Management.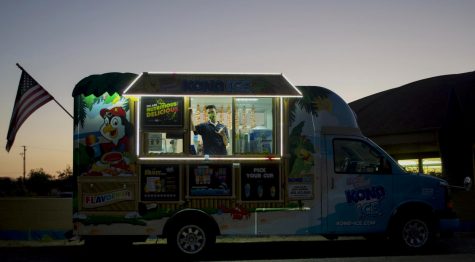 Before the film's Ojai based screening director David Garrett Byars appeared in a pre-recorded message to introduce himself and the film. "Public Trust" expands on one of his previous films "No Man's Land," which details the 2016 occupation and standoff at the Malheur National Wildlife Refuge in Oregon.
Investigative reporter Hal Herring is the narrative driver of "Public Trust". His voice introduces viewers to three areas and the key faces of their conservation efforts, while also presenting the historical and political background behind these public lands.
Navajo/Hopi filmmaker Angelo Baca details the efforts of indigenous tribes looking for recognition of their historical sites at the Bears Ears National Monument in Utah.
Executive director of the Gwich'in Steering Committee Bernadette Demientieff tells the 40,000 year history of the Gwich'in people in Alaska's Arctic National Wildlife Refuge.
Activist Spencer Shaver explains Minnesota's Boundary Waters Wilderness and its burgeoning outdoor activity economy.
All the while a narration of the strenuous history between government regulation and the protection efforts against corporate desire to privatize for profit is detailed to the present day.
"That we've been able to screen in advance of its national release and make it special for everyone is icing on the cake," O'Hara said.
UCSB Arts & Lectures also announced they will host Patagonia founder and "Public Trust" executive producer Yvon Chouinard for a free event titled "Protecting Public Lands" on February 9 at the Granada Theater.
"Public Trust: The Fight For America's Public Lands" releases internationally on YouTube at 5 p.m. Friday, September 25.
Correction: This story was updated to correct the names of Angelo Baca and Spencer Shaver.