Esparza's "For You and the Sky" exhibit to enter final stage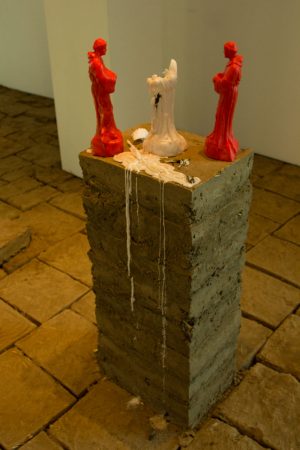 In October 2017, artist Rafa Esparza created his adobe exhibition "For You and the Sky" in two phases.
The first phase was the actual creation of the adobe bricks, and the second was the adobe structure that was created. Now it is time for phase three, which will cover what will happen with the bricks once the exhibit is taken down.
This week, the approximate 800 adobe bricks will be split between two projects.  Half of the bricks will be going to the City College sculpting class taught by professor Armando Ramos, and will be used in a class project in collaboration with Esparza.
"This is about the exposing of the labor," said Atkinson Gallery Director Sarah Cunningham. "It is an opportunity for students to see work in progress."
The second half of the bricks will be put into a new configuration by Esparza, and will be used in an exhibit called "The Border Crossed Us," which will be curated by Alberto Lule, an Atkinson Gallery intern and City College student.
The exhibit will be displayed between Nov. 28, through Dec. 1, and afterwards the remaining bricks will be stored and likely transferred to El Centro early next year.
"We see by reactivating the space that it is a reminder not to be preoccupied with the thing itself instead but the idea and constant potential or reinvention," said Cunningham.
"The Border Crossed Us" will be an introspective show about the impact of immigration on current Latin American communities.  It will include art work submitted by students who have felt an impact because of the state of immigration currently.  
Lule thought of the name for his exhibit from a popular protest chant which says "we didn't cross the border, the border crossed us."  This exhibit is a chance to express opinions about immigration.
"I'm hoping that people will take it as a more creative way of speaking for a very charged issue in society," Lule said. "I feel like there is a lot of opinion about it [immigration], but not a lot of it is spoken in a creative way."
According to Lule, people feel anxious about expressing their opinions. In the case with the graffiti in the Humanities building bathrooms, the debate about immigration was being held with students writing back to each other on the walls about their feelings about immigration.
Lule wants this exhibit to be a safe place for people to express how they feel in ways they might not express in words.
"Pretty much anyone in this country has something to say about immigration," said Lule. "Immigration impacts everyone."
Lule says that when art is done with a lot of heart and soul, people can feel it.  If people take that and talk about issues in a creative way, people might learn something new about the issue or even themselves.
"The debate isn't so much on us and them, but who we are all together," he said.
The project collaboration with the sculpting class will result in a semi-permanent sculpture that will stay in the art department's sculpture yard.
The Atkinson Gallery is open Monday-Thursday 11 a.m. to 4 p.m. and Friday 9 a.m. to noon. Admission is free to the public.