SBCC student challenges social norms with controversial art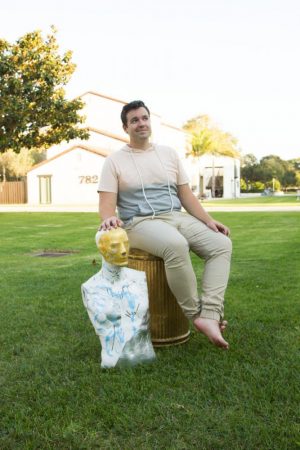 29-year-old Bryan Austin Gillison's playful yet graphic art depicting the male form and homosexuality is challenging social and political boundaries regarding sexuality and violence.
The City College student's art would be considered by many as "NSFW, " or not safe for work, however, according to Gillison, many truths are not safe for work.
"I wanted to create something that made other gay men feel like they weren't dirty," he said. "I try to use more playful colors and digestible imagery. I try to bring it out of the realm of smut and bring it into the realm of sculpture."
"I want to pornography out of the bedside table and into the living room."
Before coming out as gay at age 21, Gillison attended musics festivals and painted abstract art with his own supplies and available resources.  He said at the time, his art lacked a message. He gradually changed to abstracting the human form.
Gillison's partner Nathan Fredrickson, who handles the business side of the work, said the art adds vibrancy and magic to scenes that are controversial or emotionally charged.
"His art celebrates stuff often stigmatized like the naked body, [and] sexuality, especially gay sexuality," said Fredrickson.
Some of Gillison's art evokes beauty, while other times it invokes strong emotions.  
"Sometimes I am brutal with my messages, and I don't want someone to feel good when they are done," Gillison said. "However, the bulk of my work should make people happy."
Gillison said a lot of his work is him taking his inner feelings and pushing them outward.
An example of a stronger message Gillison wants to convey concerns the concentration camps in Chechnya, where people are murdering homosexuals and torturing them into outing other homosexuals. According to Gillison, very little has been done to stop this.  
Gillison also did a series of paintings depicting the horror of the concentration camps along with the factory farming of animals that drew parallels between American and German dehumanization techniques.
"Once you are capable of convincing someone to categorize a group as 'other', especially anything less than human, you are able to do anything," said Gillison.
Those works helped Gillison recieve the $1,000 Santa Barbara Art Association Scholarship Award. Gillison said that he never expected to feel so accepted in the art community.
Gillison is working on a series depicting toxic masculinity in systems of power. He is currently working on a painting of Napoleon riding a horse bareback.
"I find it neat that he describes it [his art] as a universe, or a world he builds," Fredrickson said. "I find it endlessly amazing and beautiful."
Gillison's art is available for viewing on his Instagram page @boston_elements, and many of his works are available for purchase on his website, www.bostonelements.com.