SBCC Theatre Group delivers powerful performance in "Proof"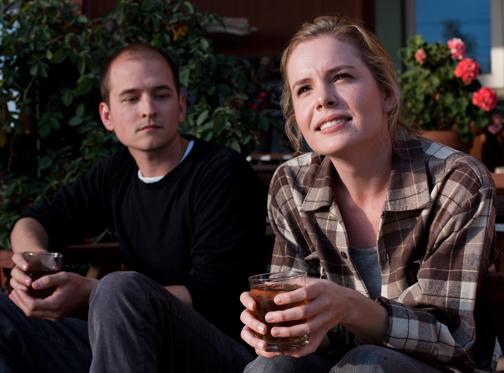 Mental health, identity and adoration were all remarkably portrayed themes in City College Theatre Group's production of "Proof" that premiered Wednesday night in the Jurkowitz Theatre.
With the two-story brick house, rustic brown lawn chairs and old, rotten plants, the background stayed true to its plot located in a neighborhood within Chicago, Illinois. Whether it was morning, evening or midnight, the lighting was loyal to the time with a warm orange and yellow or majestic purple and blue.
The plot centers around Catherine, played by former City College student Katherine Bottoms, who is a seemingly mentally-ill woman who just turned 25 and must deal with the loss of her famous mathematician father, Robert, played by Paul Canter.
The consistent issue throughout the play surrounded the concern that Catherine struggled with the same mental illness as her father. Canter plays this role very well because his emotion is so real as he works out the issues of his mental illness on stage. He talks and talks until he is out of breath and creates "problems" inside the notebooks that don't always make logical sense.
Playwright David Auburn wrote the production in 2000 with its first original performance produced by the Manhattan Theatre Club in May of that same year. Auburn's play is written in an engaging way, because it is relatable on many different levels. Between fighting with family, living up to societal standards and the emotional rollercoaster that love can be, the story resonates with a wide range of audience members.
The play ran for just over two hours, with most of it passing quickly. The characters' fights were realistic and had a deeper meaning that prompted audiences to connect with the scenes and sympathize with the actors.
Bottoms' performance was exceptional as the chemistry she carried with each actor was real and authentic. During all of the arguments, tears and joyous moments, Bottoms kept the emotional investment pure and recognizable.  With mental health being such a serious issue, she spoke her lines in a way that resulted in pure comedy. This made the production very entertaining to watch.
Catherine's sister, Claire, played by City College student Amanda Gustafsson, thinks that Catherine is following in their father's footsteps as a mentally-ill mathematician. Facing such upsetting accusations, Catherine confides in her father's former student Hal, played by City College alumnus Alex Coleman, who later becomes her love interest.
Gustafsson played her role very well as the concerned older sister. She created that realness of overbearing and that she was just trying to help feel. It was very recognizable and the feeling of resentment towards an older siblings was identifiable.
Coleman and Bottoms' relationship had a genuine feel, as both parties clearly conveyed love, anger and disappointment. These emotions are central to the narrative of many real-life relationships. The notebooks that her father leaves behind contain mystery and curiosity all on its own in which Hal tries to find a deeper meaning to.
Overall, the actors' chemistry, the authentic plot and the realistic backgrounds worked together to deliver a powerful performance.
For showtimes and ticket prices, see the Theatre Group's box office page here.