Three theatre students share excitement for 'One Act'
Gustav Högmo, 23, was born in Helsingborg in Southern Sweden and is the oldest of three sons. He moved to Santa Barbara in January of 2014 where he started studying film production at City College.
At the age of 15 he discovered that people thought he was funny and that was somewhat of a gateway into the world of acting. Around the same time he started playing music and began making homemade movies with his friends. Högmo said when he came to study at City College, his interest for the art became more profound.
"When I came here and actually started taking classes I realized that there is so much more to acting than just pretending to be someone else," said Högmo. "I just got even more interested in it."
Högmo says he would like to become a comedian and thinks it is easier to be funny on stage than portraying more serious scenarios that is required with drama. When getting into character he tries to identify with the character he is about to play by trying to understand their emotions and imagining himself in their situation.
He will be part of the upcoming student driven show "One Act," where he plays in the first act of the comedy "A Murder at the Howard Johnson's," written by American playwrights Ron Clark and Sam Bobrick.
The play is about a love triangle with a woman, her husband and her lover. Högmo is playing a dentist who is having an affair with the married woman and together they are plotting to kill her husband.
Högmo hopes to be able to make a living out of his passion for acting but would also like to include music and writing into the mix. If he is able to, he wants to stay in the U.S. and build his career. But as of now he is taking one step at a time and does not know what his plans are after next semester.
What Högmo likes best about acting is that it gives him a break from his everyday life.
"It's fun to pretend to be someone else for a while; you can be older, younger, you can be whatever," he said. "You evolve as a person from acting."
"One Act" premieres 7 p.m. Monday, May 4 at the Garvin Theatre.
---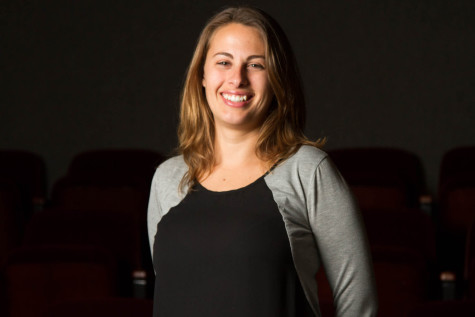 Britni Alleman, 29, was born in Wyoming and moved to Southern California together with her family when she was four. She was raised in a Mormon household and is the oldest of nine.
Alleman says she would like to try out everything that the creative profession has to offer, from playing in movies to taking the stage, directing and working behind the scenes.
What she enjoys most about acting is the emotional relief that she explains as "cathartic."
"You get to put on a new face everyday," said Alleman. "There aren't very many ways to get out certain emotions in healthy ways, like anger and frustration, and in acting you can do it without consequences."
Alleman worked within customer service before starting City College two years ago. She has worked as a barista, bartender, receptionist and hairdresser and says her work experience is useful when she is acting.
She will be playing in two short comedies in the upcoming City College production "One Act."
The two plays, "Philadelphia" and "Sure Thing," written by playwright David Ives, consist of Alleman and three other acting students and are co-directed by their teacher Maggie Mixsell.
"Philadelphia" is a comedy about a man who is having a bad day, and a friend who is trying to help him fix it by telling him what he is doing wrong and how he can make it better. Alleman is playing the friend in the play and says the play has a very comedic ending.
"Sure Thing," also a comedy, is about a man and a woman meeting in a café. Every time they give the wrong answer to a question a bell rings. They start the scene over again until they get it right and become romantically involved.
Alleman describes the play as a "fun challenge" due to its quick dialogue.
"There is so much talent this semester, it's insane," said Alleman. "I am so excited to see everybody else's plays, because we all hide in our little corners practicing, nobody's seen anybody do anything yet."
"One Act" premieres 7 p.m. Monday, May 4 at the Garvin Theatre.
---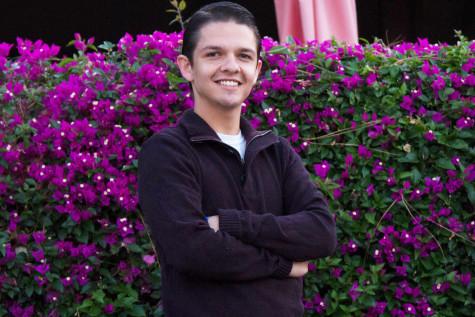 Daniel Clark, 22, was born in Santa Ynez, California and is a fourth semester theater arts major. Clark started out studying psychology, but always knew his passion was acting.
When Clark was 17 he was diagnosed with bipolar disorder and found himself on the wrong track when it came to the choice he had made about his future profession.
"Things were just not going well for me, that's what it was," Clark said. "I was so unhappy doing everything else. It just came to a breaking point where I had a bit of a nervous breakdown and I just decided; I'm going to go for it, I know I can do it."
After switching major he said it feels like he "started his life" and he has become better at handling stressful situations, much thanks to the audition process.
Ever since Clark was a child he has liked to entertain people and he recalls how the idea to pursue acting was sparked when he watched the movie "Liar Liar," starring Jim Carrey.
It was Carrey's energy that was most intriguing to Clark. He said what made him fascinated with the actor was how he turned normal situations into something funny.
When Clark is finished with his studies at City College he will move to Los Angeles to try to make it in the industry, since being a movie star is his ultimate goal.
Clark will be part of the City College production "One Act," starring students from the advanced acting class. He will play the second and third act of "A Murder at the Howard Johnson's" by American playwrights Ron Clark and Sam Bobrick.
The comedy is about a love triangle, with a woman, her husband and her lover, where Clark is playing the husband. He said the play is very amusing.
What Clark finds most satisfying about acting is the relief from the stressors of being an adult.
"You get to be a kid again," Clark said. "You get to play pretend."
"One Act" premieres 7 p.m. Monday, May 4, at the Garvin Theatre.