Matthew Esguerra — vice president of external affairs
Matthew Esguerra, current commissioner of marketing, is running for vice president of external affairs in the upcoming student government election.
The first year political science and philosophy major moved to Santa Barbara from Sacramento, California. Esguerra hopes to make Santa Barbara City College a more active legislative group in the shared governance process at the state level.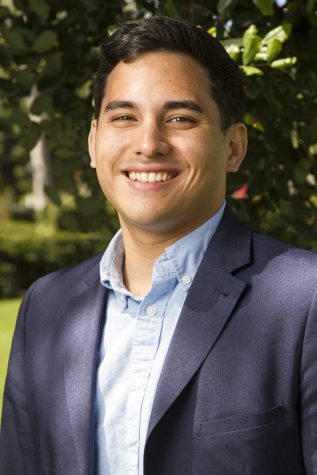 "Being that we are the No. 1 community college, I think we should be the college that is leading in resolution output, making a difference and impacting the state," he said.
Esguerra is taking great interest in a pending assembly bill titled AB-10. This bill, if passed, would require every public and private school to be fully stocked with feminine hygiene products.  
"I would like to write a resolution that would help resolve the pending idea of providing feminine hygiene product dispensers in all bathrooms," Esguerra said. "I realize this is a real issue and I want to be able to make that impact for everyone."
Esguerra is also taking an initiative to form a committee that would bring in student input from other diverse groups on campus. He plans to brainstorm ideas about community college legislation with the committee so that students can be involved in state level issues.
Lastly, Esguerra plans to create a Student Right's Packet that will highlight student right issues for situations pertaining to City College. For example, last month, a student was interrogated and recorded by a teacher who suspected him of cheating. At the time, this student did not know his rights in terms of what he should, and should not have allowed the teacher to do. This packet would include those rights, along with how to file a grievance if a teacher does ever violate your rights. Also included in the packet will be basic "how to" items that will address things like how to start a club.
He believes he is the best candidate for the position given his passion and distinct knowledge about the position.
"Being on ASG is the best way to make an actual tangible difference on campus, and I believe I can make that happen," Esguerra said.