SBCC baseball star holds stellar performance throughout season
It was the sixth game of the season, the Vaqueros were winless and had scored just eight runs, then, Nic Bereaud ignited the offense by launching a grand slam over the right field fence.
The 6-foot-3 inch first baseman went on to finish 4-4 with two homers and two doubles, tallying up seven RBIs en route to the Vaqueros 13-10 win over College of the Sequoias. City College followed its 13-run outburst with 12 more the very next day, two coming from Bereaud.
"It's difficult to actually put an explanation on it I guess," Bereaud said. "But it was just one of those days where I was seeing the ball really well, everything was coming in clearly and I just had some luck go my way."
After starting the season 0-5, the Vaqueros now find themselves in second place in the Western State Conference North Division with Bereaud leading the way. When he steps to the plate, every pitcher he faces knows that his 31 RBIs and seven home runs lead the division.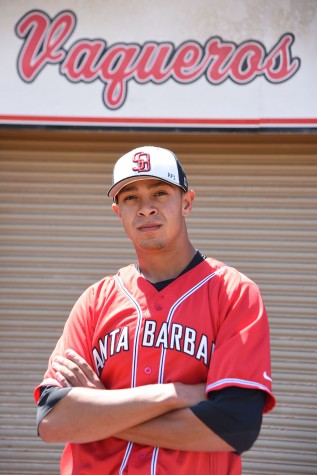 "When Nic's behind me [in the lineup] then I'm more likely to see more fastballs," said catcher Jake Gagain. "They want to do whatever they can to keep me off base so they don't have to pitch to Nic with runners on."
Despite redshirting his first year, and not seeing much playing time last season, Bereaud came into this season with big expectations.
"I wanted to swing the bat, I wanted to drive in a lot of runs," he said. "I never really want to focus on statistics too much, but I just wanted to mature as a hitter."
Bereaud did not have any immediate family members who played baseball but he developed a love for the game as soon as he first stepped on a diamond when he was just 10-years-old.
Growing up in San Diego, Bereaud grew up watching and attending Padres games. Despite being nicknamed 'The Big Hurt' after MLB Hall of Famer Frank Thomas, Bereaud's favorite player to look up to was Padres shortstop Khalil Greene.
For Bereaud, it wasn't Greene's skills as a hitter that he admired, it was the selfless way he played the game. Greene never made an All-Star team, but Bereaud strives to be the same kind of teammate that he was.
"[Nic] does everything right," Gagain said. "He's here early, first one at the yard, last one to leave and he's definitely a leader on this team."
Bereaud attended Serra High School in San Diego where he still holds the home-run record for his junior season. He first met City College head coach Jeff Walker through a recruiter at UCSB and it didn't take long for him to decide on coming to Santa Barbara.
"I went up here for a visit and just fell in love with the campus so I thought it was a step in the right direction and I think I made the right choice."
As of now, Bereaud isn't sure if he will play at a four-year college next season, but he isn't spending too much time worrying about it either. While City College winds down the regular season with the playoffs in sight, Bereaud remains focused on the team.
"If we keep winning pitches and we keep winning games then I think that's going to put me in a good position to play next year," he said.
Whether he continues his baseball career or not, Bereaud wants to stay close to the game. As a communication major, Bereaud said he is interested in broadcasting and sometimes he gives his commentary on the game from the dugout.
"I would really like to get into the broadcasting field," he said. "I would love to work up in a booth at the major league level."