Men's baseball opens 2015 with three-game sweep against Napa
City College men's baseball team started off the 2015 season with a three game sweep of Napa on Friday and Saturday at Pershing Park.
---
Game One
City College baseball rode a good pitching performance to rout Napa 16-3 in the first matchup of a three-game series on Friday at Pershing Park.
The Vaqueros were off to a slow start but got comfortable toward the fourth inning when they were leading 4-1 behind solid pitching and a consistent defense.
City College sophomore pitcher Justin Bruce (No. 11) threw seven innings of three-hit ball, struck out six and retired the last 13 batters in order.
"The jitters were there, " said Bruce. "At the beginning, I couldn't really find my slider so I only had my fastball to work with. But once the game gets going, it sure gets easy."
"Toward the fourth inning I got pretty comfortable and this is a phenomenal outcome."
The right-hander gave up three straight singles with two outs in the third, and then went on to retire the next 13 batters. He pitched seven innings allowing one run on three hits with six strikeouts.
"They were patient and they played their opponent," coach Jeff Walker said. "It's nice to see where we're at."
City College pitcher Pierce Romero (No. 30) appeared in his first game after a two-year absence.
"It's the first time I pitched in two years because I had an elbow injury," Romero said. "It felt good to get my feet wet again and I'm really glad to have come back and start off the season on a win."
The Vaqueros notched their highest run total since scoring 19 in a victory against West L.A. last year.
---
Game Two
City College baseball felt confident after opening their season with two back-to-back wins against Napa College Saturday morning at Pershing Park.
After a near three-hour game, the Vaqueros came out strong with a 4-0 lead. They broke the 0-0 tie during the bottom of the fifth when sophomore Matt Henderson (No. 6) scored on a wild pitch.
"It's always important to scratch the first one across, get that lead out of the way, and continue it on," Henderson said.
Fourth year head coach Jeff Walker was pleased with the outcome of the game, as well as the competition the Vaqueros faced on the opposing team.
"We achieved our goal of touching home plate one more time than our opponent," Walker said. "It's always nice to turn out on the winning end of it."
The game picked up in the bottom of the seventh after two players scored. Returner Connor McManigal (No. 24) reached on a fielder's choice RBI, allowing sophomore starter Spencer Erdmen (No. 5) to score.
During the bottom of the eighth Brandon Evans (No. 13) scored after Matt Gimenez (No. 2) singled through the left side earning an RBI.
Starting pitcher Lucas Jacobsen (No. 39) helped the Vaqueros win the game, fighting back any nerves he had of playing in his first collegiate start. He hopes to have more control of the ball while staying confident next game.
"I feel really good because I don't feel like I'm at my top performance yet," Jacobsen said.
It was a hot day with a large crowd turnout cheering on the Vaqueros.
"I'm stoked we got the W. The team played well, especially towards the end we started putting things together," Henderson
said.
---
Game Three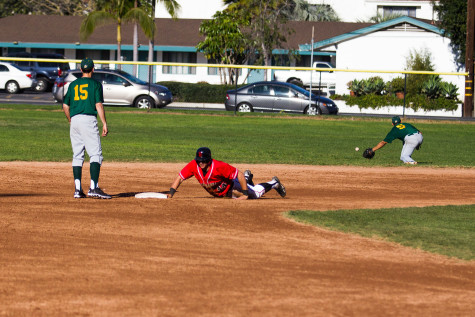 The City College men's baseball team defeated Napa 4-3 to complete a three-game sweep in the season-opening series on Saturday, Jan. 31 at Pershing Park.
Napa led for much of the game but City College chipped away at the lead before stealing the victory with a defensive error in the ninth inning.
"We practiced every aspect of the game scenarios like defense, sense of hitting, and pitching," said Head Coach Jeff Walker. "There are lots of parts of the game that make up the whole game; it is a game within the game."
After dropping the first two games of the series, Napa took a 3-0 lead in the second inning of game three. City College responded in the fourth inning when sophomore center fielder Brandon Evans (No. 13) hit a triple to score sophomore infielder James Brakka (No. 9) to make it 1-3.
In the fourth inning sophomore Dallas Bacon (No. 7) casually stole second base while the pitcher was not paying attention. Yet the fourth inning ended with three left on base after sophomore Noeh Martinez (No. 17) was thrown out at second.
In the bottom of the fifth sophomore Matt Henderson (No. 6) singled up the middle before stealing second base. Henderson then capitalized on a wild pitch to round home and make the score 3-2 in favor of Napa.
In the sixth inning Evans smashed a triple to right center, then scored on an RBI double from sophomore Derek Rustich (No. 44) to tie the game at 3-3.
Napa tried making another run but City College played solid defense to prevent Napa from scoring again. Sophomore catcher James Hill (No. 15) managed to catch most of the pitches from a sometimes-erratic throwing Sean Barry (No. 12) who kept an eye out on Andrew Wheat of Napa making an attempt to steal.
In the bottom of the ninth inning Spencer Erdman (No. 5) reached first on a single and stole second to put himself in scoring position for the winning run. Erdman reached home on a Napa throwing error, clinching the series sweep and prompting a City College celebration in the outfield.
"I think we came out a little lackadaisical, and then we came together and turned it on as a team, which is really important," Henderson said. "We actually have a lot of experience from last year so I am really confident that the guys are pulling together again and [will] do as well as last year in the upcoming season."