Freshman soccer goalie brings competitive nature to the field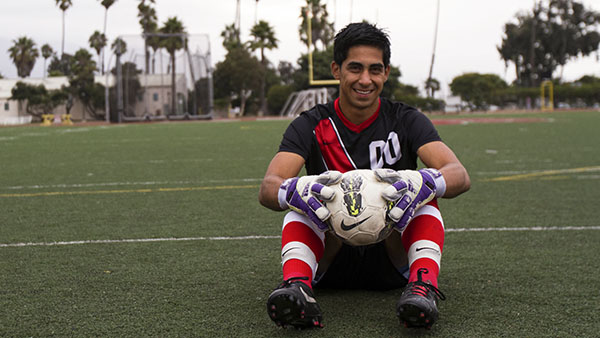 Juan Rodriguez (No. 00) often finds himself in the middle.
The 5-foot-10 Vaquero goalie from Nipomo finds himself in between a ball, the net and his four brothers. Both older brothers played soccer and Rodriguez became intrigued as he watched the oldest of the four, Julio, take the field.
"He was playing, so I wanted to start playing as well," said Rodriguez.
The Vaqueros freshman goalkeeper is working towards an emergency medical technician certification at City College. Rodriguez is one of the few starting freshman for the team this year, but he didn't always have his eyes set on the ball.
"In the third grade I was on track," he said.
By age eight, he made the transition from track runner to soccer player.
When Rodriguez began his official soccer career at Righetti High School, he was faced with an unexpected challenge.
"It's kind of funny," said Rodriguez. "I didn't really plan on being a goal keeper."
The team only had a few positions left, one of which was the goalkeeper.
"I had never played goalie," he said. "But I tried out for it and they put me straight to varsity."
He showed his goalkeeping skills when the Vaqueros shut out Hancock College earlier this season where he made "a tremendous save," said head coach John Sisterson.
His raw talent for goalkeeping has left team captain, Adam Colton (No. 4), very pleased.
"He's very calm and relaxed in his personal life and I think he transfers that onto the [field]," said Colton. "He's a very able goalkeeper and this year will only put him in a better [place] for next season."
Colton said that he is impressed with Rodriguez's desire to improve his skills as he works diligently with the goalkeeping coach and that he see's his confidence grow each and every game.
Another force that guides Rodriguez's skills is the popular video soccer game, FIFA. Rodriguez said this game is not only his favorite thing to do in his off time, but a way of mentally preparing for an upcoming game.
"It's a good way of training your mind," he said. "I usually play it before my games so I can get the rhythm going."
Rodriguez said that when he's not making saves on FIFA or for the Vaqueros, he drives the hour and 20 minutes to see his family in Nipomo.
"I enjoy spending time with my brothers because I don't see them much," he said.
The FIFA playing family man has aspirations to continue his soccer career, where he hopes to capture much more than an oncoming ball.
"My plans are to get a scholarship to a D1 school if anything, but a D2 school would also be fine," Rodriguez said.
He said he has his eyes on CSU LA.
After he transfers, he said he hopes to continue playing soccer where "recruitment would be the ultimate goal."
You can watch Rodriguez in action at 4 p.m. Friday, Oct. 18, against the previously shut out opponent, Hancock College at Santa Maria High.
The next home game is set for 7:30 p.m. Tuesday, Oct. 22, against Canyon College.