Santa Barbara musicians compete in Battle of the Bands tour for Shabang Music and Arts Festival
April 18, 2023
An ecstatic crowd congregated at the sold-out SOhO Restaurant & Music Club to partake in Shabang's Battle of the Bands at 8:00 p.m. on Saturday, March 15. The Shabang Live Music & Arts Festival hosted a Battle of the Bands tour across the California coast to spotlight local bands and compete for a spot in the lineup for the annual music festival, as well as a $1,000 prize. The tour locations include San Luis Obispo, San Diego, Santa Barbara, Berkeley, and Santa Cruz. 
Five local Santa Barbara bands took the stage to perform a brief setlist, where they were judged on their musical ability, crowd reaction, stage presence, and originality. The crowd also had an opportunity to scan a QR code to cast their votes at the very end. Each band showed its own unique attributes, traditions, and glamour on stage in hopes of grasping a spot on the Shabang lineup.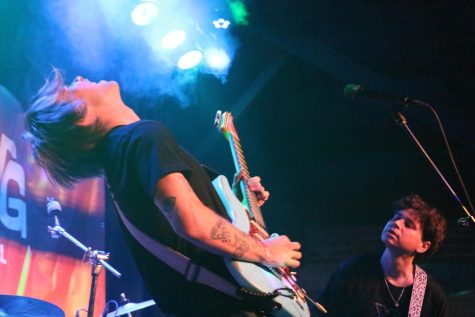 Opening up the night was Strange Case, a Ventura County-based band fronted by lead vocalist Mikey Netka, Zane Vandervort on guitar, Finn Bennett on drums, and Aaron Chapman on bass. Vandervort also founded "Surf and Turf Records," where he produces a handful of Strange Case's songs. 
The band has previously performed at Shabang in May of 2022 and performed at SOhO with hopes of grasping a spot on the lineup for 2023. The band featured a snippet of Led Zeppelin's "Dazed and Confused," morphing into their original "27 Club" featured on their 2021 album "Quarter Life Crisis." Strange Case excelled in their stage presence and musical ability. At the end of their set, Netka smashed his guitar on stage. Their setlist and energy left the crowd buzzing and set the scene for the rest of the night.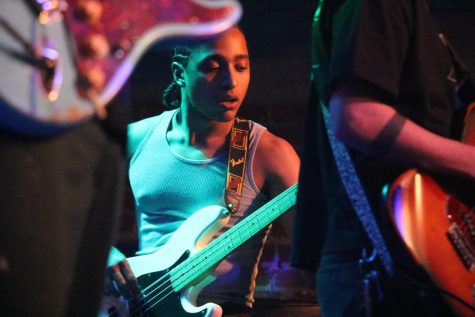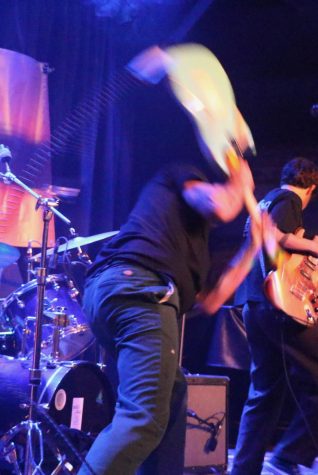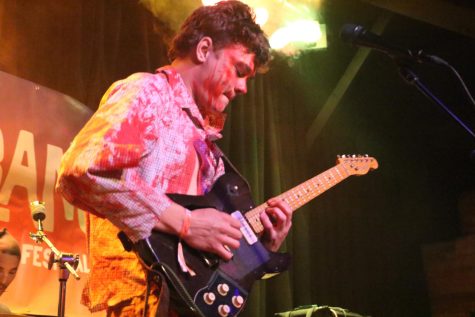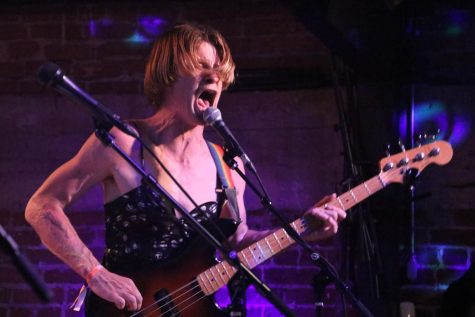 Second up was Lizardsmouth, a "dance-punk" trio based in Santa Barbara that shifted the scene for the crowd with a mosh-heavy set. Lizardmouth thrived in its stage presence and loosened the crowd up with their energy on stage.
Lead singer and guitarist Cameron Meza and bassist Cai Norton featured songs on their setlist from their 2022 album "Man on Lizard," including fan favorite "I Fall in Love with Everyone."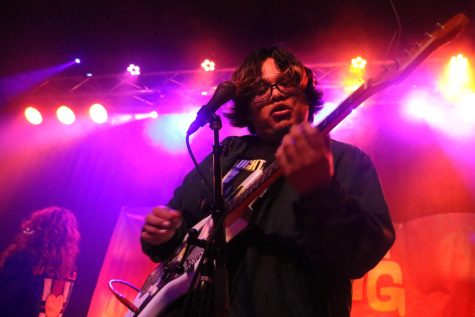 Third in the lineup, Ventura-based band Crawdads entered the stage. The Crawdads' strong suit in their setlist was their audience participation and onstage chemistry. Whether it be guiding the crowd through chants, or keeping it cool when the drummers' kick drums and drumsticks break, the chaos just heightened the symphony of pandemonium.
Lead singer Isaiah Hernandez announced that this was the biggest audience that the band had played for, but was able to control the crowd effortlessly.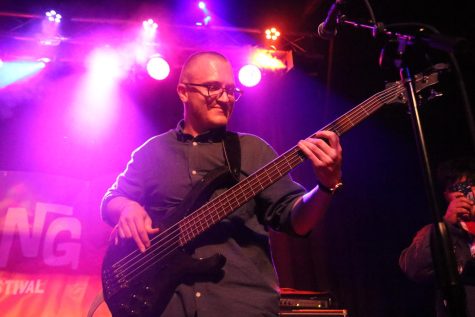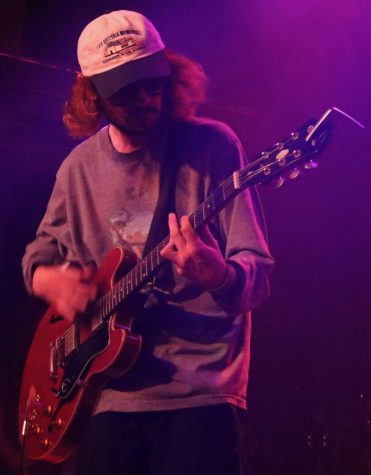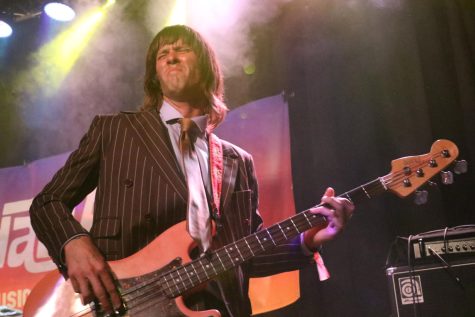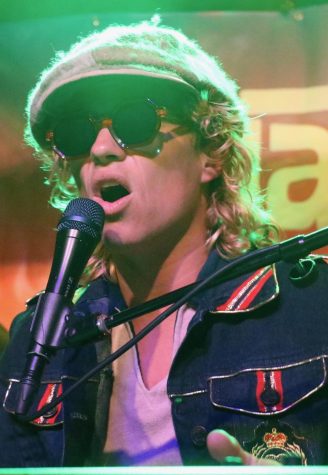 Fourth up was Glenn Annie, which commenced a switch in the music genre that was heard last. The punk wave that was curated by previous bands then shifted to 70s pop-rock, self-proclaimed "casual business rock." The band graced the audience with their fan-favorite tunes, including "Mystic Woman" off of their EP "Nite Tan." Fronting the band, Evan Blix on piano, bassist Justin Huntsman, guitarist Luke Holroyd, and drummer Luke Mensink's chemistry and musical ability helped drive them up the leaderboard.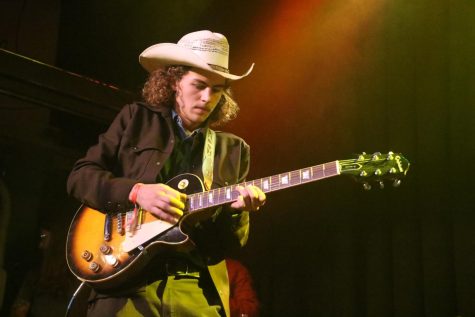 Last but not least on the lineup emerged Field Daze, sporting trench coats and quickly ripping them off. Their set showed both band chemistry and crowd control, quickly prompting moshing and crowd surfing. Lead guitarist Freddy Lopez dove into the crowd in during their final song, while his guitar was cordlessly hooked up to his amp. Weeks before Field Daze went on stage, an estimated $4,000 of Lopez's equipment was stolen, including his guitar, amplifier, and pedal board. A Go Fund Me was started by lead singer Drako Alva in hopes of raising money to replace the stolen gear. Nevertheless, the crowd began chanting "Field Daze" and requesting one more song.
The buzz after Field Daze's set filled the room as the crowd anxiously awaited the results. The crowd roared as soon as Glenn Annie was announced as the recipient of the $1,000 check and a spot in the Shabang 2023 festival. The band celebrated with an encore of a few more songs off of their 2022 EP Nite Tan. Glenn Annie will be performing on Saturday, May 6 in San Luis Obispo for the Shabang Music and Arts Festival. Glenn Annie also will be playing at 8:00 p.m. on Saturday, March 22 at Wylde Works in downtown Santa Barbara. Their music can be found on Spotify, Apple Music, YouTube, and Amazon Music.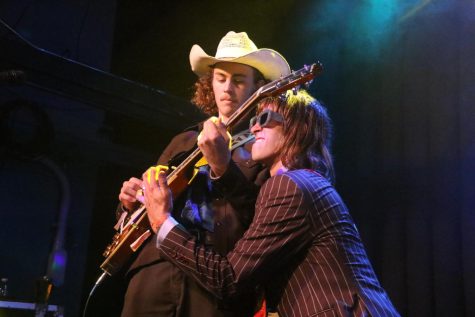 Tickets for Shabang 2023 can be found on their website, along with information about the other Battle of the Bands tour locations and winners.