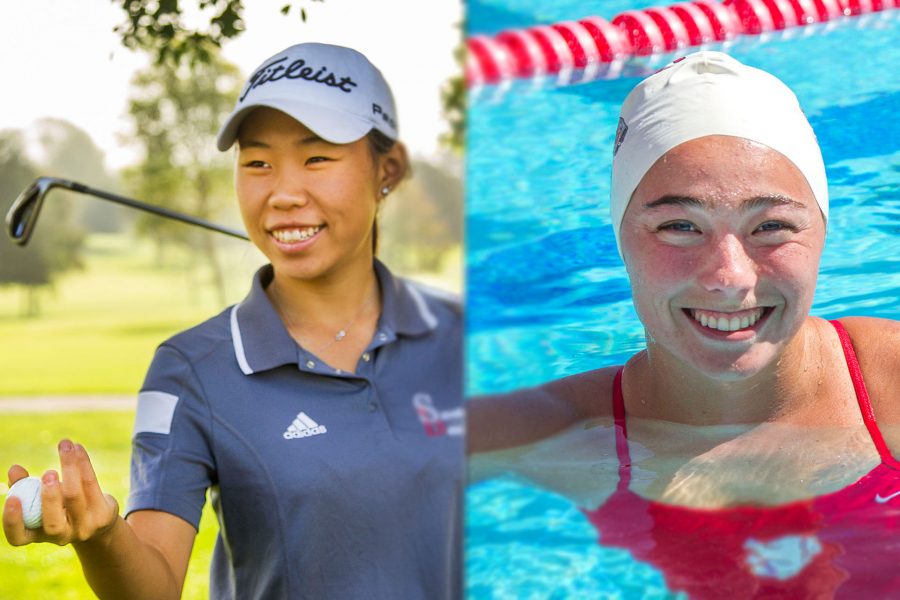 ISABELLE SINIBALDI
The City College women's swim and women's golf teams were both recognized as the top California Community College Athletic Association (CCCAA) academic teams in their respective sports for the 2015-16 school year.
Both teams did very well athletically and academically. The golf team combined for a 3.34 GPA while the swim team totaled a 3.14 GPA. The golf team finished the 2015-16 year with a dominating 80-6 record. The outstanding season resulted in the team's fourth state title in ten years.
"​This team is very talented," women's golf coach Chuck Melendez said. "Obviously, they are intelligent and talented. Often you don't get both. It is very nice to have smart kids that don't need to be told to keep their grades up. I am extremely proud of this team."
The swim team also had an impressive season at 33-4. They won the Western State Conference Title for the first time and also finished eighth in the State championships.
"It is a really awesome accomplishment," swimmer Reese Ellestad said. "Being recognized like that is an honor and everyone on the team was really proud. Everyone on the team is really dedicated to both swimming and school and it shows."
Addison Seale, swimmer and water polo player, earned Scholar-Athlete of the year from City College for the 2016 year. Seale accrued a 3.6 GPA while also earning All-American honors in swimming and setting five school records. Seale was also the Western State Conference Player of the Year for water polo.
"Our coaches really help us focus," Seale said. "They check in to make sure we are going to classes. They get informed when we aren't doing well and they really stay on top of us about it."
Golfer Savanah Boss was on the team for the last three semesters but decided to commit to school this semester.
"I loved all the girls on the team," she said. "I am so thankful to have met all of them last semester and miss them very much. I am excited to watch them continue to play golf next season and [for] the ones who are transferring to play elsewhere."
Golfer Carolin Chang led the women's golf team, winning the State title along the way.
"[Melendez] makes sure everyone is eligible to compete," Chang said. "We talk about our schedules with him so that we can get everything done for school that we need to do."
Danielle Picard is another sophomore golfer in her last season as a Vaquero. According to Picard, she is enrolled in 18 credits of classes this semester and finds it difficult to get enough practice in while also studying for classes.
"Keeping up with both athletics and academics is tough," she said. "But if you have enough motivation, it becomes easier over time."
Chang is transferring to California State University East Bay and plans on continuing golf there. Boss is transferring to Fresno City College to join the Nursing program.
Picard is transferring in the fall to a four-year university but is unsure on which one. She wants to pursue health science and hopes to continue playing golf in college.
Seale committed to UCSB next semester where she will study communication and play for the water polo team. She hopes to have a career in sports management. Ellestad is going to American University where she will continue swimming.
Swim coach Chuckie Roth said he is very proud of his team.
"​I was very excited to hear that we won the state Academic Award," Roth said. "We have had so many special athletes come through the program in such a short period of time."