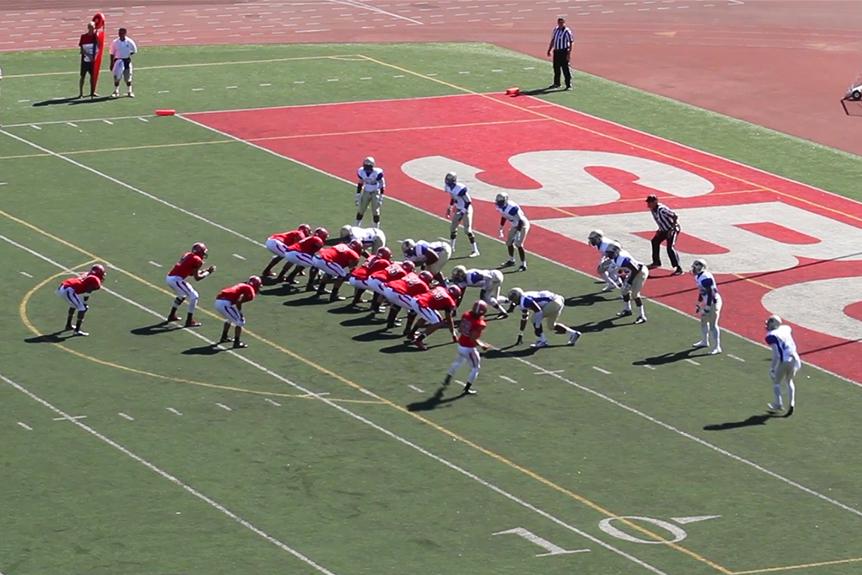 City College football took on Pacific League rival West LA Saturday, Sept. 27, dominating on the ground en route to a forcible win at home.
The Vaqueros racked up 351 rushing yards on the day, the second most in program history. The explosive run game was lead by Cedric Cooper (No. 9) who ran for 121-yards and a touchdown, along with Cheroke Cunningham (No. 13) who contributed with 110 yards of his own, along with two scores.
We got a real good push up front," said Cooper. "And that's always good in the run game."
The 56 points was a tie for the third most in school history, the most since the 1996 season. With five turnovers in the game, the ball was going back and forth between schools, and the Vaqueros were tested mentally. But the running game secured the win in the end.
Orion Prescott (No. 21) wasn't far behind his teammates coming up 11-yards short of a 100-yard game as well, as offense was the key factor in the win Saturday.
"We've realize we have a very talented group of running backs," said head coach Craig Moropoulos. "It was just a matter of getting the offensive line to build that confidence.
City College plays their next game hosting LA Southwest at 1 p.m. Saturday,Oct. 4, at La Playa Stadium.