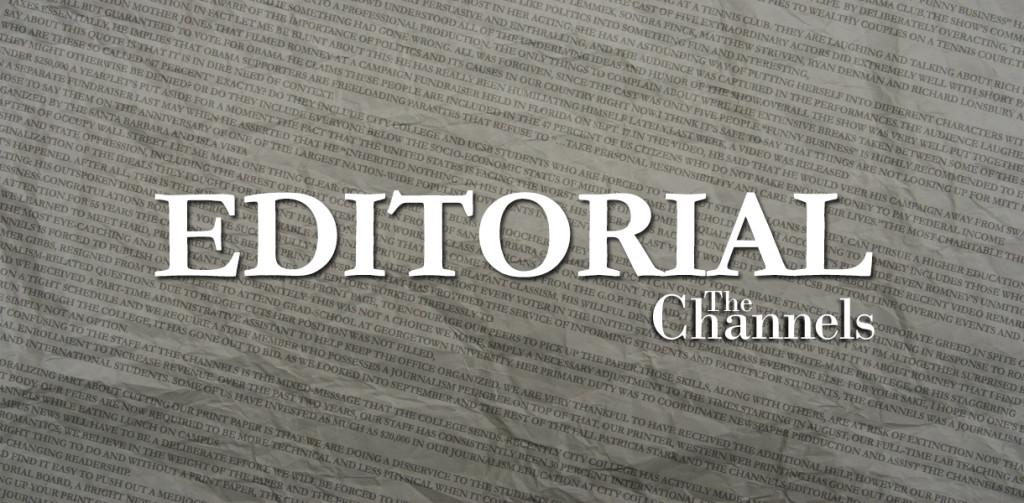 Taking the bus may not be so bad anymore.
The Santa Barbara Metropolitan Transit District proposed a number of changes that could help City College students travel to school more easily.
The Channels Editorial Board encourages the transit district's board of directors to follow through with the proposed changes.
The changes include: adding four more scheduled bus trips to City College each day, replacing the sticker system with digital chips and returning a bus stop that runs directly to West Campus.
Four more bus trips means more people willing to take the bus. This is a win-win for both bus riders and students driving cars. Not only will buses become less crowded, the campus parking lots will too.
While this may not be the complete solution to fix the City College parking situation, it's one of the limited alternatives that could help make a positive difference in the issue.
Many City College students live in Isla Vista because of the cheaper rent or limited availability in downtown Santa Barbara housing. While there are many alternatives in transportation like riding a bike to school, that doesn't apply to students living in Isla Vista. They either have to take the bus or drive.
Even though the bus pass fee is not optional, its increase of $1 is worth it for all students. Students that drive a car to school may have their car break down one day. And students that walk to school may need to use the bus to travel somewhere else in Santa Barbara. It's a backup plan for all students to make sure they all have the traveling access.
Returning a bus stop to run directly to West Campus will also help students make it to class on time.
Speaking of saving time, students will not have to go wait in line to get their bus stickers at the beginning of the semester, nor wait for the bus driver to examine each and every bus sticker. An electronic chip in student IDs will help save time for students when getting on the bus because they can simply tap it onto the farebox. It may just clear up some seats as well.
According to a couple of The Channels editors who went to high school locally, it's common for students to sign up for City College classes and drop them just to get a cheaper deal for bus access. Maybe because this new program would be electronic, there could be a program that strictly only allows currently enrolled students to get on the bus using the City College bus pass. Otherwise the potential for abuse is increased along with the improvements.
The electronic chip could also help more students take the bus who normally don't. Many of these students don't take the bus whenever it's more convenient because they forgot to go get the sticker.
The Channels editors also discussed ideas of our own, including installing cameras and adding another late-night bus trip.
We understand that installing cameras could be an expense, but if the money is ever available to install them, it could be a smart idea to help protect students. Although public transportation horror stories aren't as common in Santa Barbara compared to big cities like Los Angeles and San Francisco, they aren't unheard of.
Another thing that could keep students safe is adding another late-night bus trip. The last pick up for students is at 9:45 p.m., which is an issue because some classes don't get out until 10 p.m.. Since the bus system is revamping itself, the district should address this issue. It's one of the most concerning of all bus-related issues City College has.
We hope the board takes student safety, access and comfortability into consideration when making its decision on the proposed changes May 2.