All of the sudden I found myself lost and alone in a six-by-eight cell, confronting the realization that this was not how I wanted to live.
Something had to change.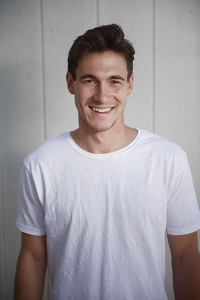 It was 2005, and I was a freshman in high school in Santa Rosa, and a self-declared punk. I felt life was a useless path to nowhere, hopeless. Why go to school, why should I follow your rules?
The next thing I knew I was kicked out of school and the home schooling program I was jammed into was not any better.
Story continues below advertisement
I'd wake up to an empty house with no food and no money. The freedom of the streets became a utopia for the young pissed off male that I was.
I spent my days doing whatever I wanted, terrorizing the public with delinquency. I was banned from school grounds but couldn't help sneaking back in to see everyone I missed.
One Wednesday my luck ran out.
The sound of the bell brought more than just an end to lunch—I was busted.
I was pinned by the two Samoan ex-bouncers the school hired to keep us troublemakers in line.
"Sit here," they said, leaving me alone in the main office lobby as they went to get the principal. "The hell with this," I thought, bolting out the door towards the freedom of the streets.
With the clicking of shoes fading behind me I made a decision, I stopped. I knew they would be at my house that night.
I would save my mother the distress.
Within seconds I was handcuffed and thrown in the back of a cop car.
"Next stop juvie," the officer announced though the inch of Plexiglas separating us.
The hours that followed were my introduction to jail. I was stripped of my clothes, freedom and sense of control.
The guards welcomed me with vindictive smiles as I went through the routine you see on T.V. Exposed, searched and handed a pair of rags they call clothes.
The jail was old—the wall peeled with white paint. My outfit was a blue jump suit that felt as if it were made out of Velcro, complete with white sandals. My new room had an inch-thick semen stain on the mattress with a tattered fleece blanket.
Ominously the cell door lock buzzed open and I saw my new home.
At that moment I was lost, alone in a dark room not knowing when I will be let out.
The glorification of the "Thug Life," ubiquitous in my generation was instantly stripped of its validity.
After my stay I knew the other side was a lie. Being a punk, thug or a gangster was nothing to aspire to.
Today, pushing though my young-adult life I do not see bars anytime soon in my future. Being made smarter by our life experiences is all we can hope for.
I may still be fighting off the burden of conformity but now I make the system work for me, not the other way around.