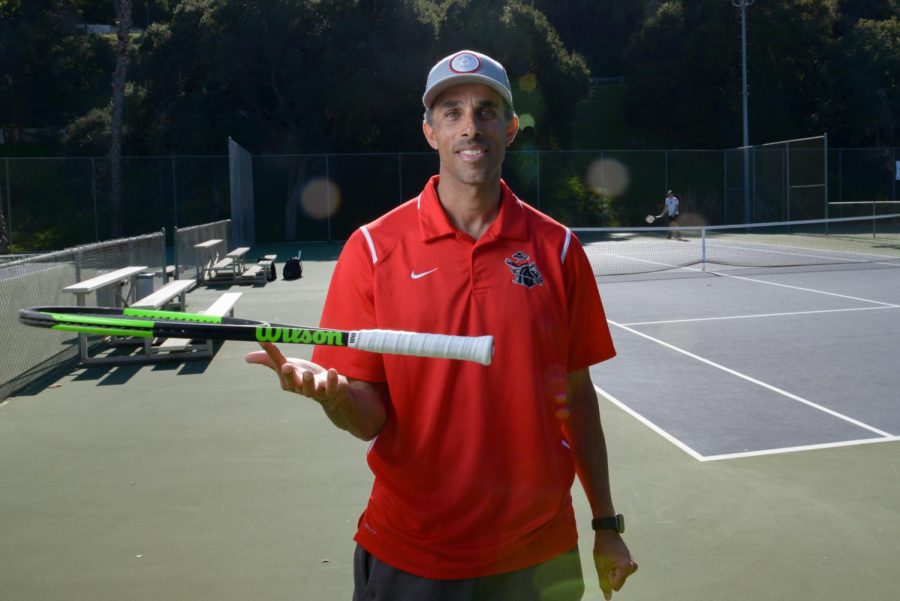 Kevin Ham
Nathan Jackmon left Santa Barbara in 1994 to pursue a career in professional tennis.
Now he's back as the head coach of the City College men's tennis team, and his experience might be just what the program needs to return to form.
Jackmon grew up playing tennis at the Pershing Park courts where he now coaches, and he attended Santa Barbara Junior High and Santa Barbara High School. He went to UC Berkeley with a scholarship to play tennis, and his college career launched him onto the professional circuit.
"[Playing professionally] was an amazing experience," Jackmon said. "I got to travel around the world and meet people."
He said competing against many great players was hard, but the toughest part was the money. He would return to the San Francisco Bay Area in between tournaments to teach tennis as another source of income.
Jackmon had some success competing, but he eventually returned to Berkeley to finish his degree and continue to teach tennis.
As a coach, his experience playing at a high level gives his team a "tactical edge," said sophomore player Alexander Martin.
"He's been in the high-pressure moments," Martin said.
Jackmon returned to Santa Barbara two years ago to raise his kids and said it had been a while since tennis had been a big part of his life, but when the City College coaching job opened up, he knew he had to take it.
"It was a great opportunity to get back to tennis," Jackmon said. "I wanted tennis back in my life."
City College Athletic Director Rocco Constantino said the choice was relatively easy due to Jackmon's strength as a candidate.
"He's a high-level instructor with an incredible resume," Constantino said.
Constantino said it is often hard to find good candidates because it is only a part-time position, but Jackmon's experience and flexible hours as a real estate agent made it a perfect fit. 
"We lucked out," he said.
Both Constantino and Jackmon emphasized the importance of recruiting local tennis players into the program, given the high rate of international students on the team.
Constantino called it a "difficult balance," because so many international students show up unrecruited wanting to play, however, being a destination for those in the area is important.
"We want to serve the local community," he said.
Jackmon said he wants to help players who are not quite ready for Division I college tennis develop their game while they prepare to transfer. He also said international players are generally well-traveled, skilled and overall good influences on Americans.
As a Santa Barbara native, Jackmon may be positioned to bring more locals into the program, but he will have to start with improving the team. The Vaqueros are looking to recover from a disappointing 5-11 season last year where they missed the playoffs.
A self-described, "players' coach," Jackmon's philosophy centers around controlling the things that one has complete control over.
"Attitude, energy, effort and focus," he said. "Be in control of yourself, your game and your success."
As far as goals for his first season, Jackmon mentioned a conference championship but said it is not the most important thing right off the bat.
"I want players to feel like they have more control over their success than they had previously," he said.
On the heels of an 8-1 thrashing of Orange Coast College, Jackmon's first win as a college coach, there is real excitement around his team.
"[Jackmon] brings a lot of experience to the table," Martin said. "We're all pretty pumped."