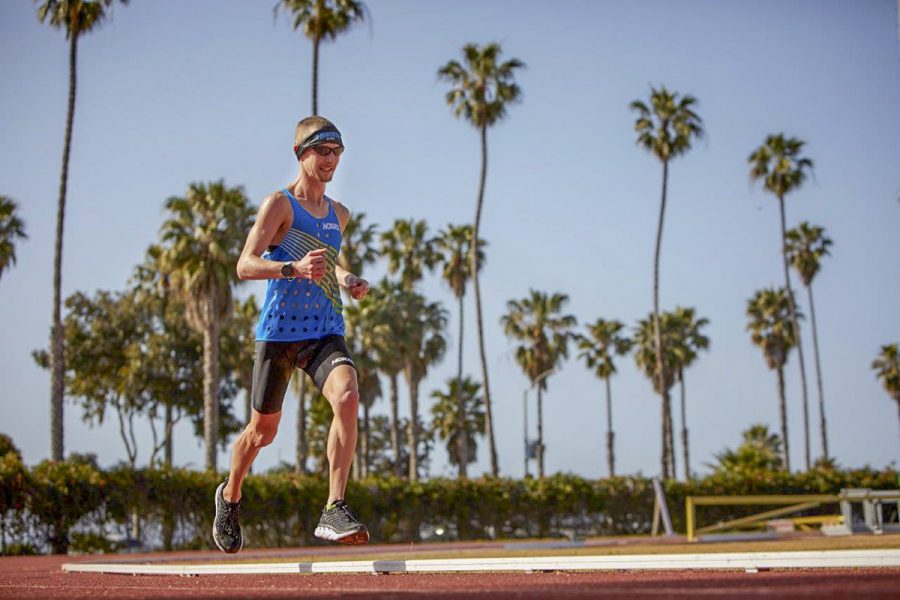 Courtesy of Tyler Andrews
Tyler Andrews, a former cross country runner at Tufts University, broke the world record for the fastest 50 kilometer run on Friday, April 13 at La Playa Stadium.
Andrews, age 28, ran the 125 laps or 31.05 miles in 2 hours, 46 minutes and 6 seconds, beating the previous record set in Timperley, England in 1980 by a full two minutes.
"It was a really exciting day," Andrews said. "Originally I was aiming for the American record but setting the world record is even better."
The track event was made possible by Hoka One One, a shoe company that sponsors Andrews.
"Once I was approached about the event and thought it would be great for the college, it took a lot of behind the scenes work to make it happen," said Athletic Director Rocco Constantino. "Hoka was in charge of all the logistics of the actual event, but it was our athletic program assistants who did a lot of the setup, site managing, and clean up."
After collaboration between Hoka and City College's athletic department, the event was set to take place at La Playa Stadium.
"It took a few months before everything came together," said City College track and field head coach Scott Santella. "They had to rent the track, supply a timer, hire officials, make sure the track was certified, have an ambulance on site, and get an athletic trainer."
Andrews, who is from Arlington, Virginia, currently lives in Quito, Ecuador where he has been training. The altitude and nearby Andes mountains make for a great place to train for long distance running, hiking and climbing.
"I love it here. I've spent a lot of time in Latin America over the last 10 years," Andrews said. "I first came here to work on a project to help kids. Hopefully I can inspire them to work hard like I have and show them you can do anything."
Andrews began running as a freshman in high school, but wasn't serious about it as a sport. He grew interest for it and ran in college. In 2016, he finished second place in a marathon and proved to himself that he can run a 50k.
"It was just a matter of time," he said. "I didn't have the right time but I knew I could handle running for that long. I set the course record in a Washington D.C. marathon in October. It's been four and a half years of training."
After years of training and two runs a day, it all paid off for Andrews.
"It was impressive to watch Tyler as he ran around the track," said Santella. "He kept the same pace for almost the entire race. The last few laps you could tell he was tired, but he kept pushing and pumping his arms.
"I knew Tyler had a chance of breaking the record, but I was still surprised when it happened. Running around the track for 125 laps is crazy."
Upon completing the run, Andrews collapsed to the ground where he laid exhausted but elated for several minutes. He had successfully achieved his goal.
"It's easier to run against people than time," Andrews said. "You can look around and see that your opponents are also drained and feel the same way. You don't have someone in front of you that you can track down."
Andrews next plans to run in the Vermont City Marathon in May and the US Marathon Championships in December.
"It was truly remarkable to watch this historic event," Constantino said. "Tyler's running ability left me speechless. To watch a record be broken on our SBCC track was one of those moments where I couldn't believe it was happening in front of me."