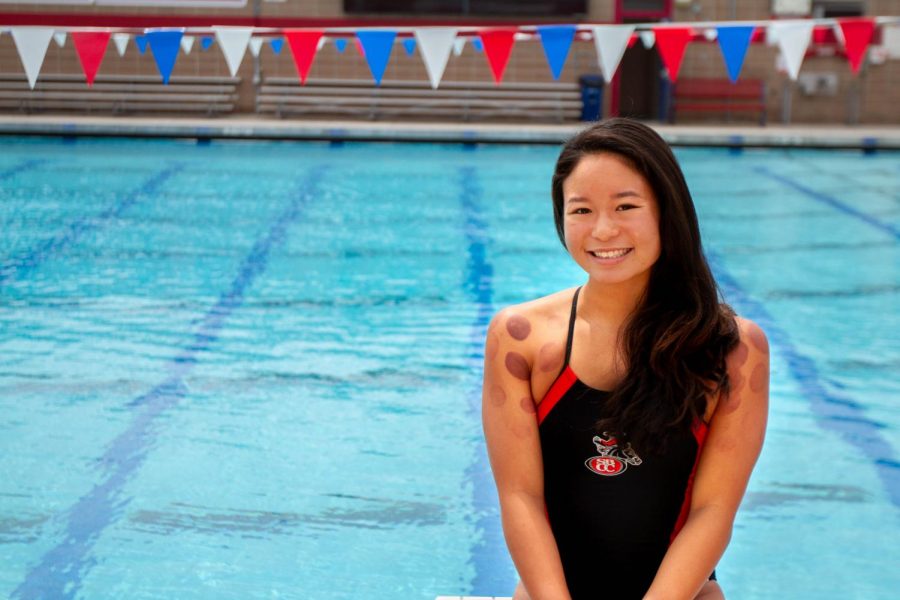 Diana Aguilar
City College freshman Kelee Shimizu has made an incredible first impression on the Vaqueros swim and dive team, and claims "cupping" is essential to her success.
In her first year alone, she swam the second fastest 500 and 200 yard freestyle times in school history, as well as the third fastest 100 fly and 500 free.
"Kelee can swim anything," said head coach Brian Roth. "She'll swim the mile, 500, and 200 free in the same meet, and never complains. She's awesome."
Roth says that Shimizu regularly swims over two thousand yards in a single meet, and will get 10 or 11 splashes in the water a day. With the amount of yardage she is covering on a daily basis, utilizing the best muscle-recovery techniques is essential to keep her body from just collapsing when she steps up to the starting block.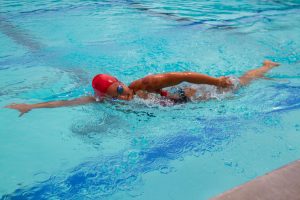 Shimizu's technique of choice is called "cupping," and it involves careful placement of glass cups on the skin which are then vacuum sealed down. This tight seal pulls stagnant blood to the surface of the skin, leaving visible spots. She says that she can rely on this technique for relaxing her muscles before a meet. 
"Cupping really helps with the blood flow, pressure and tightness in my shoulders," says Shimizu. "It helps relieve pain for upcoming meets."
In competitive swimming, even one-thousandth of a second more or less can be the difference between winning and losing. Cupping, and other small things Shimizu does to regularly put her a step ahead of the competition, shows that it's all about gaining every single advantage she can. She is admired by her teammates, like sophomore Kendra Carr, who describes her as "tenacious."
"When it comes to her ambitions and team involvement, her drive and direction is unfathomable," Carr said. "She truly believes in the team's ability to succeed, and in turn, fuels a fantastic support system."
Shimizu's dedication to the sport seems to come easily to her, since she has been swimming since she was three years old, back in her hometown of Kuristown, Hawaii. She is now coming up on her fifteenth year of competitive swimming.
"My sister started competitive swimming at a very young age," said Shimizu. "As her younger sister, I wanted to follow her path."
City College has proven to be a great stepping stone for freshman and sophomore college students to improve their skills before playing at higher levels. For Shimizu, that means eventually transfering to a division one or division two University.
"My sister's college swim coach at Cal State East Bay recommended SBCC," said Shimizu. "I trusted him with his judgement about the school, and I enjoy the environment here so much. It reminds me a lot of home in Hawaii, and makes my homesickness go away."
Shimizu is approaching the end of her first year as a college athlete, and it was a successful premiere to say the least. She chased after three of the fastest times City College has ever recorded, acted as an inspiration to her teammates, put her name on the leaderboards, and probably swam far enough to get her back to Hawaii. Shimizu has proven herself to be a true Vaquero.