SBCC softball struggles in shutout loss to Cuesta
The SBCC softball team's struggles continued Tuesday, with an 8-0 loss to Cuesta College at Pershing Park.
City College saw their game end early, due to a rule that ends the game if a team is up more than 8 runs after the fifth inning.
"We're really struggling being students of the game in all honesty," head coach Justine Bosio said. "We really need to focus a little bit better on making adjustments right when we need to instead of waiting for practice."
The Vaqueros didn't help themselves, notching only 6 hits, while four of Cuesta's eight runs were unearned. City College also left nine runners on base, failing to capitalize on its chances.
Cuesta scored early in the first inning when their second baseman Farrah Gomes hit a single to second base, driving in the run. The Vaqueros started the second inning strong, getting two quick outs. But the team made a few errors giving Cuesta extra chances, and after a couple of hits the score was 4-0 at the end of the second inning.
"We're playing as individuals and not as a team," said second baseman Madison Foster (No.3). "We're not really working together at this point and we just need comeback  and work on these things in practice."
Cuesta scored again in the fourth inning off a sacrifice fly to Foster, bringing the score to 5-0. The Vaqueros were able to get runners on base, but couldn't advance, sending several pop ups right to the Cougars.
The Cougars were able to get runners on base in the fifth inning off a few errors made by the Vaqueros. After a couple of sacrifice bunts and a wild pitch, the cougars scored their final three runs, lifting the score to 8-0 going into the bottom of the fifth.
The Vaqueros went three up and three down, ending the game. Right fielder Jasmine Manson (No.16), who played third base and center fielder Chloe Wells (No.18) got two hits apiece. They totaled four of the team's six hits.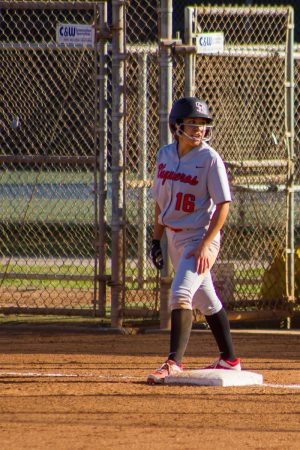 "A lot of times we struggle with slower pitchers," Manson said. "We don't take what we do in the game and learn from it and we didn't adjust to the plate at all today."
The Vaqueros have struggled since the season began, and are still looking for the first win in the conference.
"It's a mindset. As athletes you put in the work all season long so fundamentally you should be sound enough," Bosio said. " And at this point it's a mentality to change the way we have performed so hopefully some people can step up and get us there."
City College falls to 8-9 on the season and 0-3 in conference play. The Vaqueros next game will be on the road as they travel to Oxnard on Thursday. Their next home game will be at 2:30 p.m. on Tuesday, March 13 against Moorpark College at Pershing Park.