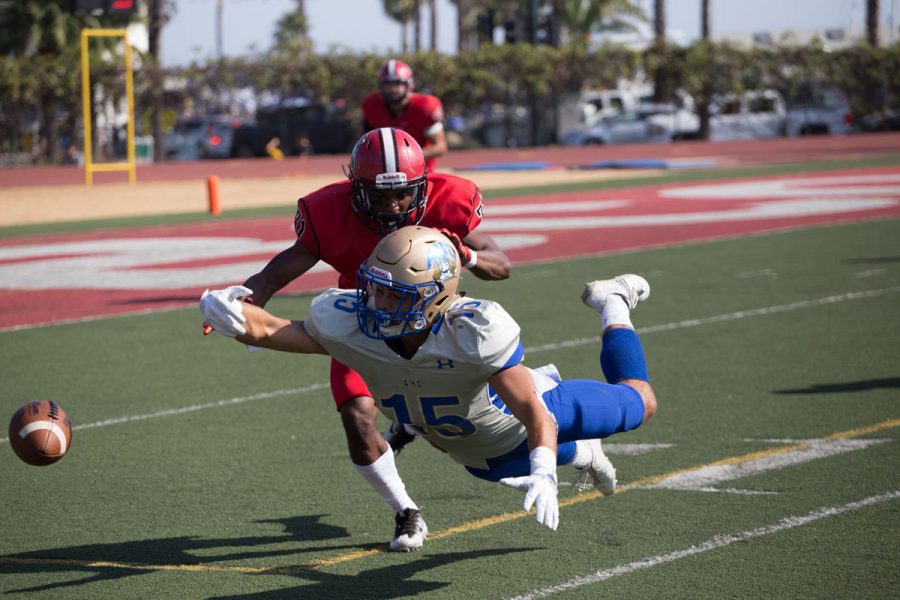 Jack Landis
The City College football team suffered a disappointing 31-3 loss at the hand of Allan Hancock to open up conference play on a warm Saturday afternoon, Oct. 14, at La Playa Stadium.
City College has lost two games in a row after beginning the season with a 3-1 record and scoring more than 40 points in each of those wins. The team is now 3-3 on the season.
"It's a tough loss but I believe we have a great group of guys," said defensive lineman Noah Gibbons (No. 62) . "I believe that if we stay together and stay as a team, we can do big things the rest of the season."
City College struggled offensively and on special teams in the second half. The running game could not get going and the team was forced to frequently punt back to Hancock.
The team struggled to put the ball in the endzone when they had the chance in the first half. The team's only points came on a field goal by Martin Ahlstroem (No. 40).
The team drove on its first few drives and had a pass intercepted and a missed field goal.
Running back Emmanuel Nwosu (No. 21) rushed well in the first half and had 117 total yards for the game. He began the game with consecutive carries of 19 and 30 yards.
"Offensively we need to find ways to convert when we're in the redzone," said City College head coach Craig Moropoulos. "In the first half, if we would had done that like we have in the past, it could have been a different game."
Bad snaps affected the kicking game throughout the second half. The punter struggled to get off a decent kick at times and that put Hancock in prime field position.
Hancock took advantage of that great field position and outscored City College 17-0 in the second half.
Moropoulos was pleased with the way his team fought all game even though the game got out of reach.
"Most of our guys were out there playing hard at the end. That's a big thing because in a game like that where you don't have a lot of success, it's easy to give up.
"It's really easy to bail when you're down."
Some of those fighters were linebacker Isaac Brown (No. 15) and wide receiver Jonathan Robinson (No. 18). Brown had five fourth quarter tackles and Robinson electrified the crowd with a 48 yard kickoff return past midfield.
"We can't take any plays off and we have to keep grinding," said Brown. "It's all a work in progress."
The team's turnover struggles followed them into the second half. Hancock intercepted a third down throw and forced a fumble on back-to-back possessions. Those turnovers resulted in 10 hancock points.
The team will look to correct its mistakes 1 p.m. Saturday, Oct. 21, in a home matchup against Antelope Valley.