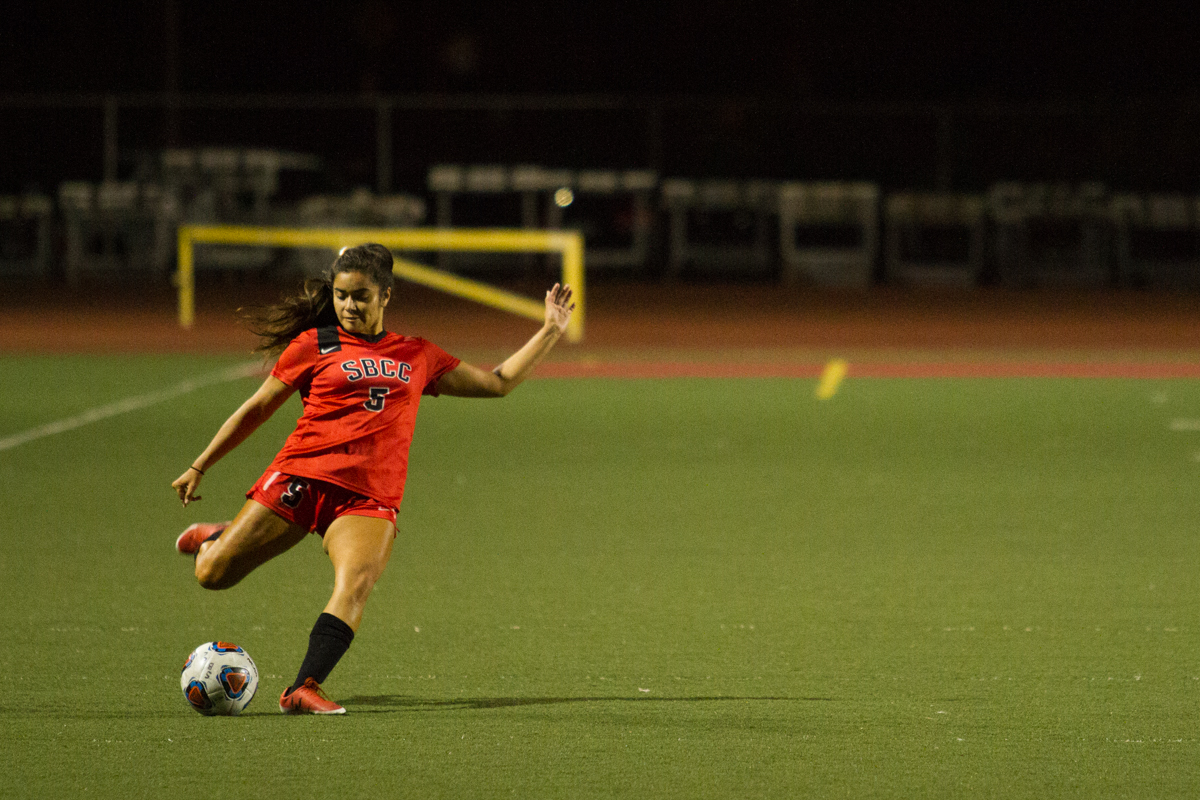 Alejandro Gonzalez Valle
Strong defense lead the City College women's soccer team to a 1-0 shutout against Clovis College Friday evening at La Playa Stadium.
The Vaqueros picked up their fifth win of the season and remains undefeated. They have four shutouts this season and haven't allowed a goal in the past 293 minutes of game time.
"We're number one  in the state, which is pretty nerve-wracking honestly," said Anna Telliard, starting center back. "Everyone is out to get us."
Gardenia Maya (No. 5), sophomore defender for City College said this was their "hardest game so far" as she iced her legs after the game. Maya played the whole time despite past injuries on her knees, ankles and shins.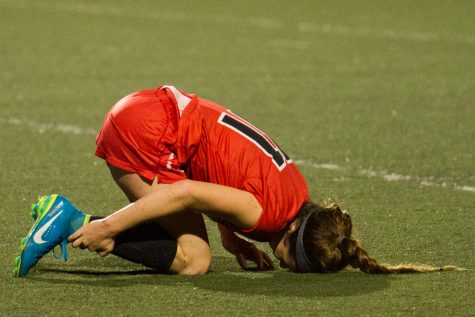 "I feel like [we can work on] passes, and opening up when under pressure," said Maya. "Oh and shooting, definitely."
Freshman Starting forward Lourdes Gilbert (No. 14) scored the only goal 18 minutes into the first half, with a strong assist from Katherine Sheehy, (No. 4) as the sun set behind La Playa Stadium. This is her second goal this season.
"This game was a grind-out," said City College head coach John Sisterson. "Lulu scored a good goal. A great goal.
"The girls worked hard. This was not an easy game, they came very close several times."
Defense was strong like it has been all season. Clovis did not have a second half shot until the ninetieth minute and only had four attempted shots the entire game.
Tensions rose when a yellow card was pulled on City College Defender Matalyn Perry (No. 16) in the first half.
Two Clovis players left the game in the second half with apparent injuries. City College Midfielder Amber Mulligan (No. 13) also took a sharp ball to the face in the second half.
Defender Nicole Van Sickle (No. 8) explains that the things they learned from this game is that they need to improve on communication and passing.
"We take care of our own business make sure the girls are doing well in school and then here [on the field]," Sisterson said. "We keep a positive attitude, and then we just look as far as the next game, no further."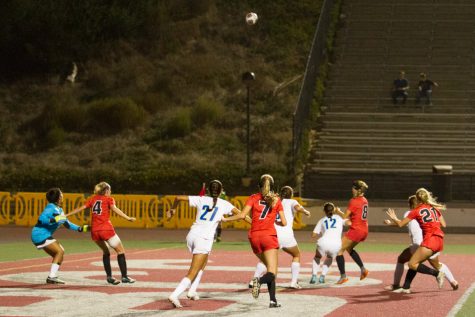 City College is ranked number two in the state and number nine in the nation.
"We don't look to win games, we look to get better for the next game," Sisterson said.
However, he is "delighted" that they have maintained their winning streak.
Sisterson looks to create an environment where it's not about one's self, it's about the team. He concludes the strategy will reflect in performance.
"Striving to get better, always, in a way that's enjoyable," Sisterson said, "that when they put on their City College jersey they want to go play."
The Vaqueros will look to remain undefeated at 2 p.m. Tuesday, Sept. 19, against Chaffey College at La Playa Stadium.
Clarification:
This story has been updated to fix grammatical errors since being originally published.