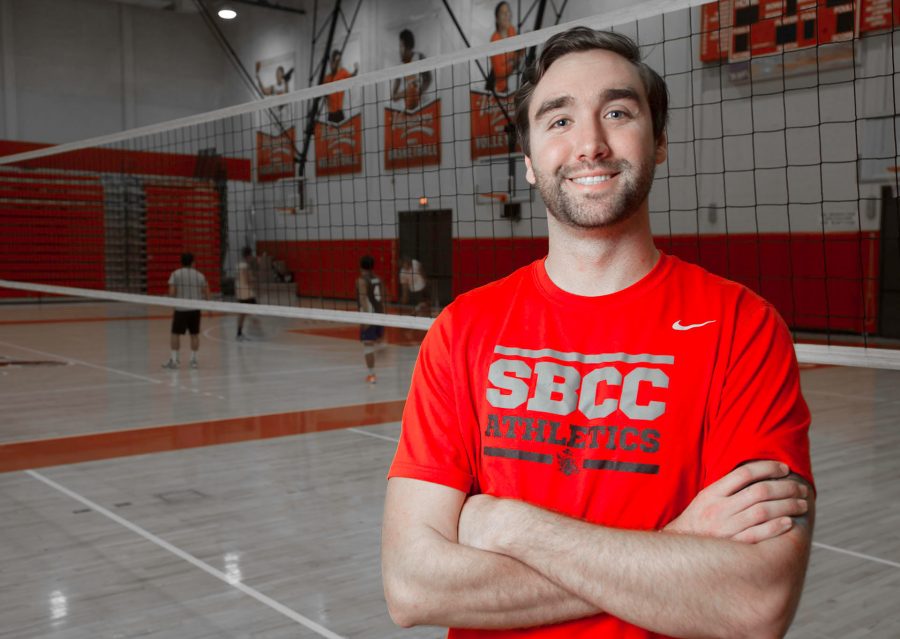 Michaela Wahlstroem
Santa Barbara City College alumnus Jon Newton joined the Vaqueros once again to come back as head coach of men's volleyball this season.
Newton attended City College doing what his players do now; compete, study, repeat.
"I was born and raised in Santa Barbara. I went to San Marcos High School, after that I came here where I played volleyball," Newton said. "I played my first season here in 2010, red shirted the 2011 season, and then transferred after that."
Newton got his first taste of his coaching career when he coached for San Marcos High School as a City College student. He decided to transfer to Ohio State University where he continued to play volleyball as a middle blocker for the remaining three years of his career.
"Throughout my senior year of college I realized I really liked volleyball. I knew a lot about it so I decided to pursue that and start coaching after college," Newton said.
As a City College alumnus, Newton feels it's easy to relate to his team. He went through the same experience of being a college athlete trying to transfer to a university.
"I can also relate to them in recruiting, so if they have any questions about anything I can help them through it," Newton said. "I did the whole process by myself so I have a first-hand experience and I know exactly what they're going through."
Sophomore Sean Reynaert plans to play volleyball when he transfers and says he has received help from Newton because he knows how the process works.
"He helps a lot," Reynaert said. "When I tell him I want to go somewhere he immediately sends video clips of our game to them."
Newton said he heard that the previous head coach for the Vaqueros was leaving and the position had opened.
"I played here, I'm familiar with it, it's the next level so I applied and luckily got the job," Newton said.
Sophomore Captain Jonathan Baldwin said he wasn't expecting a new coach for this season but it didn't take long for him and the team to adjust.
"It was a little different, but he came in and was ready to work," Baldwin said. "He expected us to play at a high level, it wasn't a huge change."
According to Newton, he doesn't plan on leaving the Vaqueros anytime soon because he is continuing his education to receive his master's degree.
"When I first started playing volleyball, I really loved it, I wanted to do everything and anything I could do with it. Now, that's what I'm doing," he said.