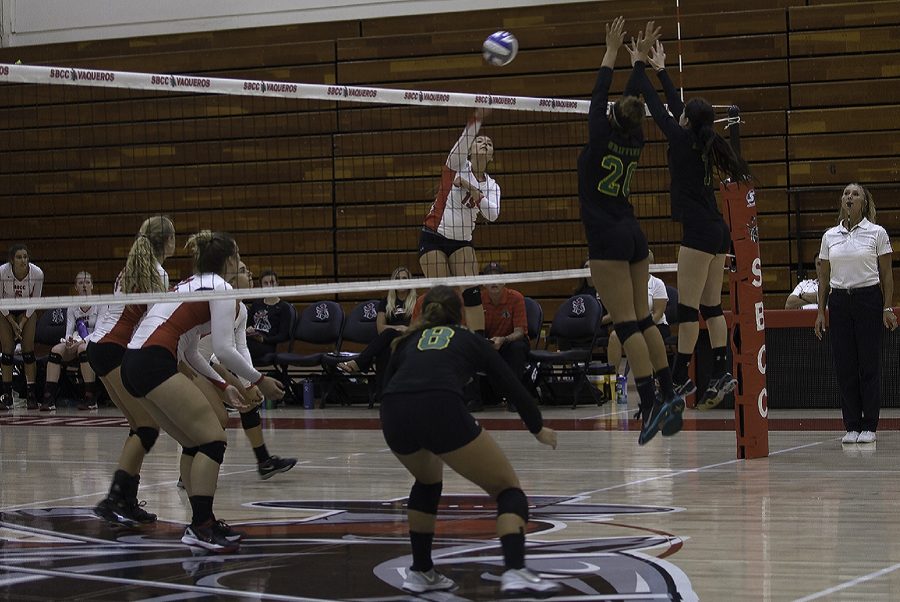 Michaela Wahlstroem
The City College women's volleyball team won 3-1 in a challenging match against the Grossmont College Griffins at the Sports Pavilion on Saturday. The victory marks a seven-game streak for the Lady Vaqueros.
It was a high intensity face-off, head coach Ed Gover said.
"Both teams had a lot of firepower."
The set of scores for the match was 26-24, 25-27, 25-17 and 25-13.
Freshman setter Kiana Pisula started the first set off confidently, but Grossmont quickly caught up to City College 4-7.
The Vaqueros quickly snapped back into the lead, keeping the first set at 10-9, with the Griffins not far behind throughout the rest of the set. After briefly tying the score with Grossmont at 22-22, City College went on to win the first set 26-24.
"Kiana is like the quarterback of the team,"  Gover said. "She did a fantastic job."
Pisula once again started off the second set strong but after trading points for the duration of the period Grossmont ended the set with a narrow 25-27 win.
Things quickly took a turn as the Vaquero's became more dominant in the third set, securing the lead at 6-3 with the help of middle blocker Isabella Thompson and outside hitter Carolyn Andrulis. They won the set 25-17.
Grossmont's middle hitter, Alana Wilson-Reid, attacked fiercely at the start of the fourth and final set but by 3-0. The stomping and cheering crowd of City College fans knew who'd take home the victory at the end of the match.
In the fourth set, City College quickly put away their opponent by a score of  25-13. Contagious energy and flawless teamwork comparable to that of a well-oiled machine is what lead the Lady Vaqueros to the 3-1 victory.
"So far this has been the most exciting game," said Pisula. "The beginning was just kind of watching, but by the end of the game we totally controlled them."
Catch the City College women's volleyball team fend off Santa Monica College at their next home game at 6 p.m. on Wednesday, September 21 at the Sports Pavilion.