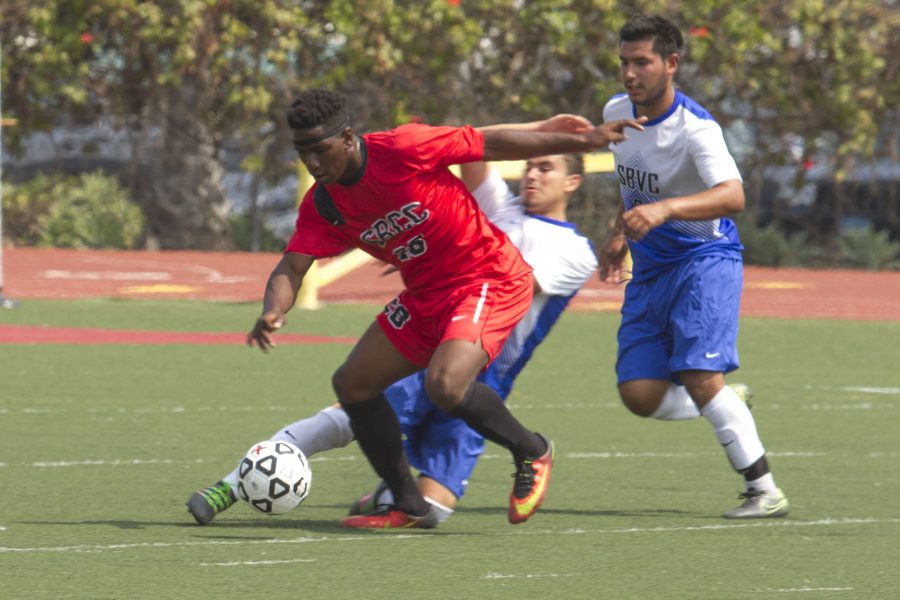 Isabelle Sinibaldi
City College's men's soccer team struggled to find the back of the net during its home opener on Friday afternoon, as they fell to San Bernardino Valley College with a score of 2-0.
The first goal came in the 15th minute when San Bernardino forward Tony Vallejo snuck one in past sophomore goalie Shane Pitcock from 15 yards out.
"I think we need to come together more and communicate a little better," said Pitcock. "For me personally, I need to eliminate the mental mistakes. As a team we're almost there, we showed glimpses and just couldn't find the back of the net."
The Vaqueros found themselves with plenty of opportunities to score in the first half. The first was a free kick by midfielder William Joyce during the 33rd minute. The kick was narrowly saved by San Bernardino goalie Sergio Torres, who then blocked substitute forward Sadiki Johnson's shot during the 40th minute.
Solid play from the Wolverines' goalie helped his team stay ahead.
"We were not sharp enough," said freshman forward Vincent Warson. "We've got to work harder in practice."
Mental errors would prove to become a common theme throughout the match for the Vaqueros. Shortly after the second half began the team fell to 2-nil, after San Bernardino forward Fred Zaragoza found himself one-on-one with the goalie, after executing a well-played nutmeg on a City College defender in the 53rd minute.
City College forward Victor Chavez began to attack the net more in the second half. Torres saved one shot in the 65th minute and another barely missed the top crossbar in the 74th.
The Vaqueros almost found themselves on the board in the 87th minute when Chavez chipped the ball over the Wolverines' goalie's head before it was cleared away by one of their defenders.
"The two goals that we conceded were mistakes," said John Sisterson, head coach of the Vaqueros. "It's disappointing to concede off two mistakes and then not to go and test their goalie like we normally do."
"I tell them that we have to take care of things on a day to day basis, don't think ahead to championships. If you always win your next game, then you'll win a championship."
The early loss comes as a shock to City College, who finished the last season strongly with a record of 11-4-6 while San Bernardino, finished just 7-6-8.
City College will return to the field Tuesday afternoon to face LA Harbor, where they'll look to bounce back and capture the season's first win.