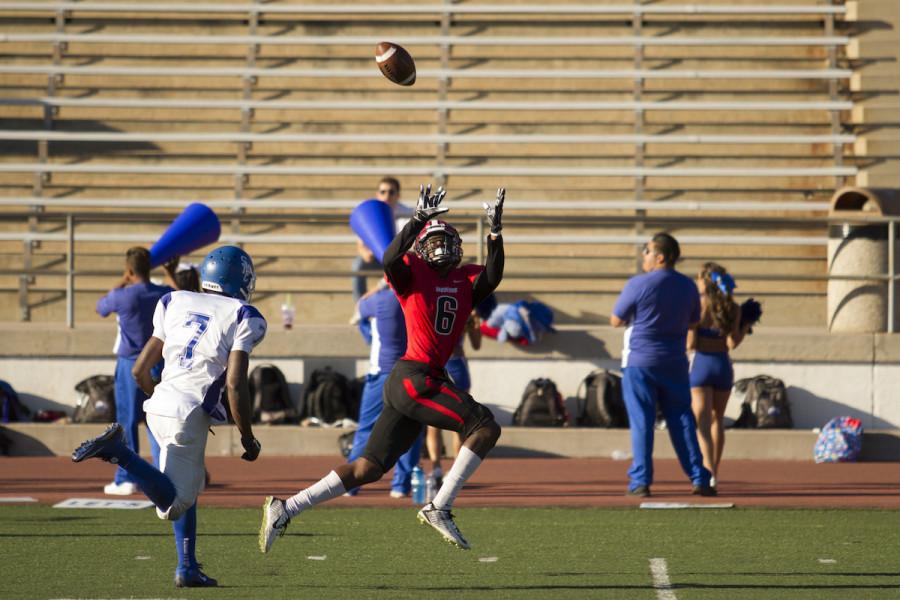 Daniel Feldtkeller
The undefeated Santa Monica Corsairs spoiled City College's sophomore day with a 37-21 win Saturday at La Playa Stadium.
After quarterback Alexander Cuevas' strong outing last week while filling in for the injured Brandon Edwards, City College elected to split playing time between the two in the game against Santa Monica. But neither quarterback could keep up with the Corsairs' top scoring offense in the state.
"Each one has different strengths, each one has different abilities," said head coach Craig Moropoulos about the two quarterbacks. "They're both very good and they bring things to the program that we want to use."
Santa Monica's high powered offense was led by running back Kwame Duggins who rushed for 152 yards and a touchdown and quarterback Troy Williams, who threw for 253 yards and three touchdowns.
The tone was set early when Santa Monica marched 82 yards on the opening drive to get off to a 6-0 lead. The Vaqueros answered immediately as Jason-Matthew Sharsh returned the following kick 53 yards, setting up a short touchdown catch he'd finish off himself few plays later to take a 7-6 lead.
The rest of the first half was dominated by the Corsairs, as they didn't surrender another Vaquero point. Duggins and Williams took advantage of each opportunity.
After a fumble by wide receiver Calvin Crockett was recovered by Santa Monica, the Corsairs didn't take any time to respond. Just 24 seconds came off the clock before Williams found Baxter Kirven for a 21-yard touchdown.
"We knew that it came down to tackling," said linebacker Thomas Hopp. "And with their up-tempo we just didn't get the job done, we missed a lot of tackles today."
Despite starting the second half being backed up at their own two yard line, the Corsair offense kept it rolling and eventually scored on a Duggins 39-yard touchdown run.
On the next Vaquero drive, Edwards hit Ronald Smith-Carter in stride, but after gaining 69 yards Smith-Carter fumbled and Santa Monica recovered.
"They're a very good football team," Moropoulos said. "And you can't miss as many opportunities as we did with them."
The Vaqueros managed to find the endzone two more times, including a 46-yard touchdown pass from Edwards to Crockett, but the game was out of reach.
The top ranked Santa Monica offense racked up 620 yards and 38 first downs, compared to just 339 yards and 15 City College first downs.
The loss drops City College to 4-5 while Santa Monica moves to 9-0. Despite the loss, coach Moropoulos says that he plans to play both quarterbacks in the final game of the season at 1 p.m. Saturday Nov. 14 at Glendale College.
Cuevas threw for 144 yards while Edwards threw for 149 yards and two touchdowns.
"We work pretty well together," Edwards said about Cuevas. "I have faith in him, he has faith in me."