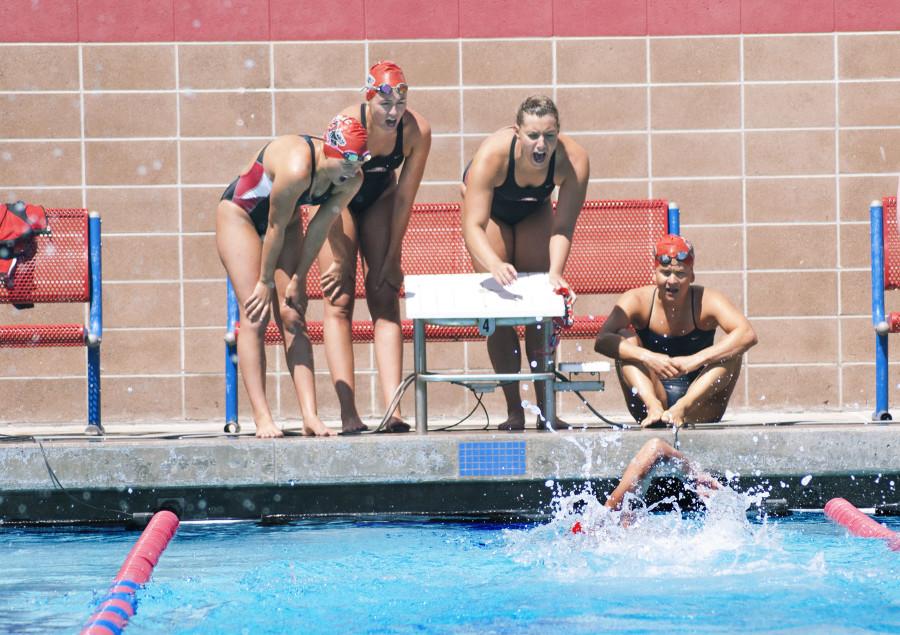 Nicole Wong
After crushing the competition in front of the home crowd at San Marcos High, the City College women's swimming team kept its number one position in the Western State Conference. The Vaqueros totaled 419.5 points Saturday to beat Ventura (328.5), Canyons (303), L.A Pierce (262) and Hancock (237) in the third conference competition.
"It was our second win and the girls did very well," said head coach Brian "Chuckie" Roth. "They have trained hard and it was fun for them to be able to win in front of family and friends."
Sophomore Rachelle Visser had an outstanding performance in the 400 yard individual medley (4:44.32) where she won, swimming over 26 seconds faster than second place. She also won the 200 yard butterfly (2:16.25) and placed second in the 200 yard breaststroke (2:36.39) and yet she's not satisfied.
"I swam okay and it was good enough, but not as I had expected," Visser said.
Roth was very happy with the team today and he said Katherine "Moose"  Warren did a great job winning both the 1000 yard freestyle (11:27.89) and the 500 yard freestyle 5:33.79).
City College won seven of the eleven events on the evening, setting the pace for the other schools. Other Vaqueros improved on their personal bests.
In the 200 yard backstroke, Vaqueros Alaina Chela won (2:21.04), Elise Hazel finished fourth (2:28.52) and Autumn Lovett finished fifth (2:28.90).
"Alaina did a nice job today, winning even though she went two heats back to back," Roth said.
City College came together to win both relay distance events. In the 4×100 yard medley relay Lovett, Chela, Ashley Macedo and Madelyn Brooks beat Ventura with only half a second, finishing on the time 4:24.59.
In the next relay it was Hancock's turn to be defeated by City College's Brooks, Hazel, Warren and Sarah Westmoreland. The Vaqueros won with five seconds to spare in the 4×100 yard freestyle relay, and Visser said she was very happy with her teammates.
"I feel like we have a much better team this year," Visser said. "The gap is much smaller between all of us."
For her first time in the 500 yard freestyle sophomore Rocio Fesembeck landed a great fifth place on the time 6:01.37.
"I was really nervous because it's a long distance," Fesembeck said. "But then in the race I felt steady and just did what Chuckie had told me."
Roth said he was really impressed by the performance from Fesembeck.
"First time for Rocio in this distance and I'm proud of her," Roth said. "I think we have a future in this style and that she's gonna be awesome at conference."
There's only one month remaining until State Championships, but City College has a few meets left in between. The first one is the Pasadena Invitational which is a two day event stretching from April 3 to 4.
"Pasadena is a big meet and we're looking forward to it," Roth said. "We hope to wrestle up some fast times and then in a month, it's state."