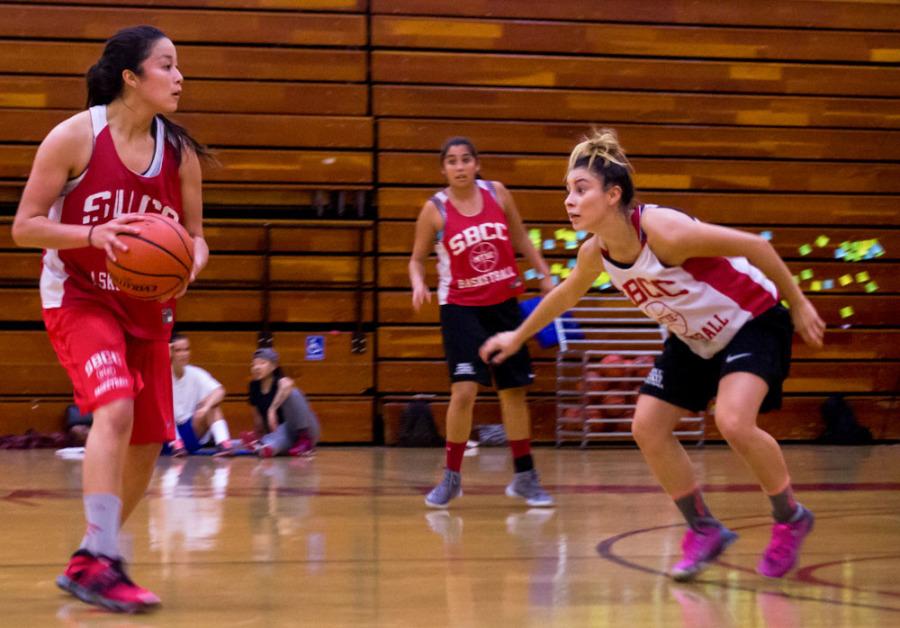 Jazmyne Cushenberry
City College women's basketball gears up for another season coming off a 5th place finish in the Western State Conference.
Head Coach Sandrine Krul is shifting the team's style of play to a heavier inside attack.
Krul, in her 11th year as head coach, plans on switching from her traditional full-court speed offense in order to utilize the personnel brought in this season.
"We're changing up our philosophy," said Krul. "We'll only press at certain times and we'll pound the ball inside."
Adding to the team's post are two freshman measuring six feet and above. Paige Nealy (No. 30) and Alexis Alego (No. 10) carry the heavy burden of controlling the team's new style of play.
Krul is ready to utilize her new threats in the paint.
"Paige is a 6-foot-1 left-handed post player and Alexis is 6-foot and also talented," Krul said. "So we want to slow the game down. It's going to be totally different from past years."
Roster changes are common at the collegiate level of play and the Lady Vaqueros are looking to rebound off the loss of their entre starting cast.
But two sophomores who played all of City College's 26 games last season return as the seasoned veterans of the program. Twins Darla (No. 22) and Andrea Moralis (No. 15) are ready to step up and take on the duties handed down by last year's starters.
The team already seems to be clicking.
"We have better chemistry this year," said Darla. "We [just] have to rebound well and defend."
Among the key new players are Stella Dulay (No. 33) from Pioneer Valley High, and Alyssa Cosio (No. 12), a 5-foot-10 guard-forward from Santa Barbara High's CIF championship team.
As the team looks to rebuild its program this season, with added height comes new opportunity to mold into a new kind of driving force. Reaching the SoCal Regional seven of the last nine seasons, Krul looks to prepare her team this season for playoffs. At the same time­, seasoning her team for the future as well.
"It's going to be a growth year, with our schedule very tough as always," said Krul. "But that's okay. You don't get better playing terrible teams. You get better by playing the top teams."
The Vaqueros will host the MTXE Tournament for the last time on Nov. 20-22. The Vaqueros open vs. Solano 8 p.m. Thursday, Nov. 20 at the Sports Pavilion.